Farrier Apprentice 'Outstanding'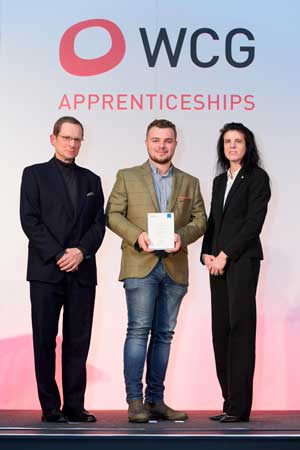 Apprentices from across the Midlands were celebrated in a graduation ceremony in Warwick.
Family, friends, employers and tutors came together at Old Shire Hall to celebrate the success of the latest group to complete apprenticeships with WCG (formerly Warwickshire College Group).
Radio presenter Dave Sharpe was the master of ceremonies for the evening, which also featured an address from Mark Adams, the managing director of world-leading furniture manufacturer Vitsoe.
WCG trains over 2,500 apprentices each year from more than 1,100 employers across its seven colleges including Leamington, Rugby, Warwick Trident, Pershore, Moreton Morrell, Evesham and Malvern Hills.
It marked the sixth apprenticeship graduation ceremony hosted by the college, with graduates coming from a wide range of industries and professions, ranging from land-based to business and marketing.
The apprentices took to the stage to receive their official scrolls from Mark Adams of Vitsoe and from WCG Group Principal and CEO, Angela Joyce.
Angela Joyce said: "At WCG we are committed to formally acknowledging success, so it was only right we celebrated the successes of our apprentices.
"For every £1 invested by an apprentice at WCG, they get £7.70 back in future earnings, which shows the benefits of following the apprenticeship route.
"Our apprenticeship graduates have vital academic grounding in their chosen sector, but also have the experience of putting what they have learned into practice.
"We would like to congratulate all of our apprentices on their graduation and wish them the best of luck in their future careers."
Joe Hosie, 21, was named as one of two Outstanding Apprentices on the evening and also gave the students vote of thanks address.
He completed an apprenticeship in Farriery at Moreton Morrell College, while working with Tim Whittington at the Priory Forge in his hometown of Inkberrow, Worcestershire.
Joe said: "I went on work experience and fell in love with farriery and taking an apprenticeship was the only way to get into it.
"It's been a successful few years. I'm on the Welsh farrier team which was placed third highest in the world championships!
"I've set up my own business now and my next steps are to take my associate exams and eventually take on my own apprentices."
Abigail Mohtady, 19 from Rugby, completed her Business Administration Level 3 apprenticeship with Morgan Sindall while studying at Rugby College and also received an Outstanding Apprentice award.
Abigail said: "I went to sixth form but it wasn't for me, I knew I wanted to be working and I feel like I've developed a lot as a person as a result of my apprenticeship.
"I'm more confident, I've got my qualifications and I'm making way more money than a 19-year-old usually would.
"Morgan Sindall has been very supportive and my assessor at WCG was great, without my apprenticeship I wouldn't be who I am now."
WCG offers a wide range of apprenticeships in a variety of industries. For more information visit www.wcg.ac.uk/apprenticeships
Image: Mark Adams (Vitsoe), Joe Hosie and Angela Joyce (WCG).