Mustad 'Champion of Champions'
8th May 2010
Held alongside NAFBAE's Farriery Focus at The Forge, Stoneleigh, UK
Competition Format: -
7 min for trim, can measure foot and steward will cut steel
10 minutes (approx) judging (competitors will be in hiding)
40 minutes to make and fit 3/4 fullered shoe for front foot and to start making specimen
10 minutes (approx) judging (shoe and fit contestants not present)
20 minutes nail and finish and complete specimen
Each judge will score independently.
There will only be one prize awarded (£5,000) so that the selected charity can be recognised, the others will not be placed and no scores will be published, but £250 pounds will be awarded to each competitors nominated charities.Charitable Donations will be made by Mustad.
The Specimen Shoe: -
Fullered roadster to be made from 11" of 3/4" x 1/2". 'Suitable' Nail. No other measurements to be provided.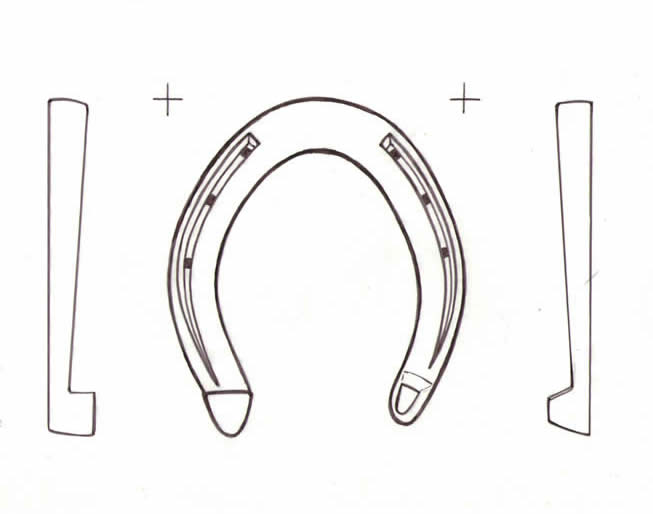 Image can be printed by right clicking on your mouse and selecting 'print'. If you would like the image emailed, please email claire@forgeandfarrier.co.uk
Competitors Confirmed to Date : -
(as at 5th March 2010)
Steven Beane - England
Grant Moon - Wales
Jim Blurton - Wales
Billy Crothers - Wales
Paul Robinson - N.Ireland
Darren Bazin - England
Richard Ellis - Wales
Austin Edens - USA
Bob Marshall - Canada
Dave Duckett - USA
Craig Trnka - USA
Mark Milster - USA
Bill Poor - USA
To be judged by : -
David Wilson BEM FWCF AWCB
Marsall Iles CJF