Four Timer for Hannon Farriers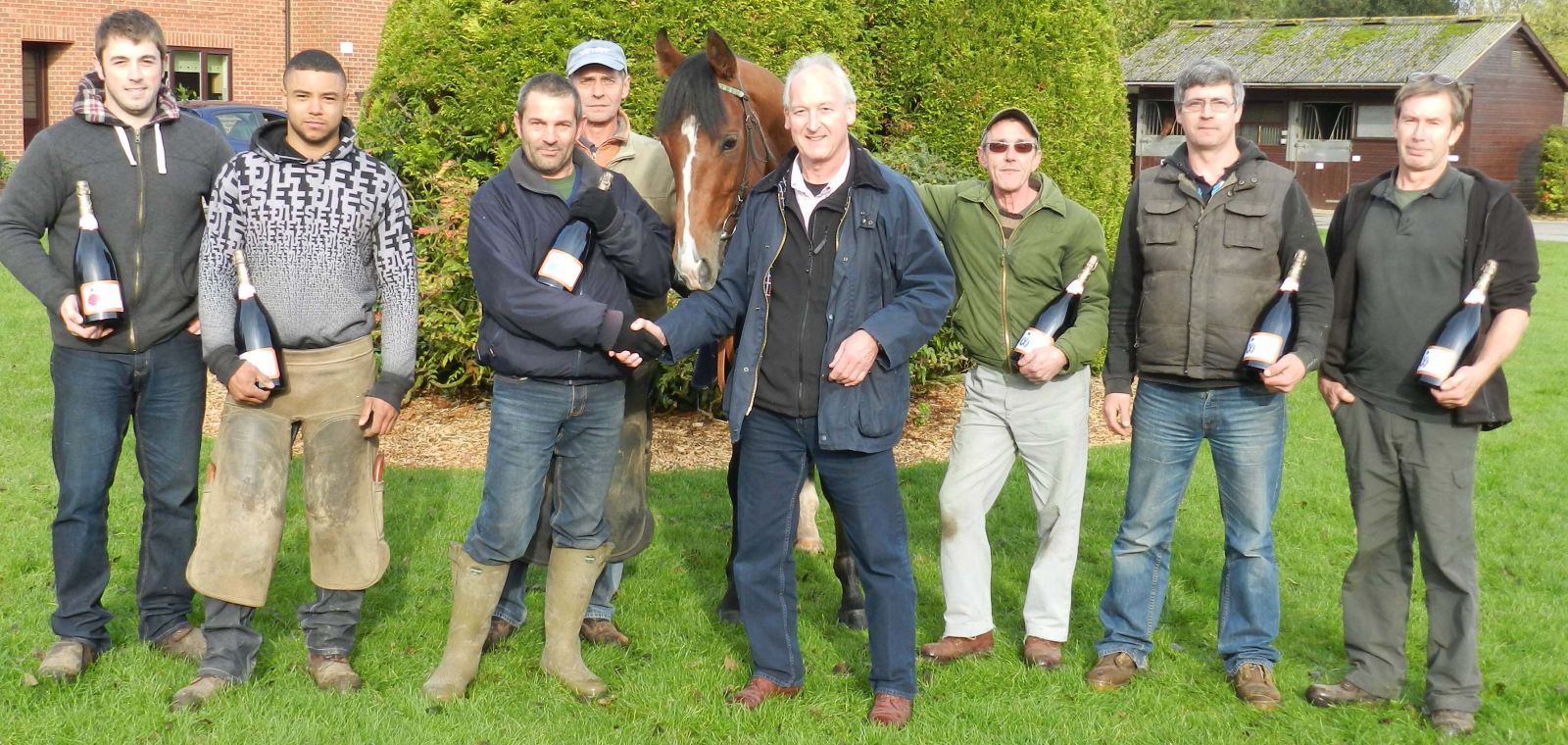 The Richard Hannon farrier team with Tony Lindsell of Atlantic Equine Ltd
and Olympic Glory
(L to R) Jason Macbeth, Daley Johnson, Mark Hewlett, Bert Newman, Tony Lindsell, Andy Ford, Richard Alford, Rob Meyrick
Following another magnificent year for champion racehorse trainer Richard Hannon, his farrier team have won an unprecedented fourth successive Victory Magnum prize.
The Victory Magnum is awarded by Atlantic Equine Ltd, specialist equine hoofcare products suppliers and importers of Victory aluminium racing plates, to the farrier or farriers plating the most Group One winners in England, Ireland and France in Victory racing plates in any one season.
The winning farrier team is made up of Mark Hewlett, Richard Alford and Andy Ford, all from Wilton, near Salisbury, Bert Newman from Bodenham, Daley Johnson from Didcot, Jason Macbeth from Chalkhouse Green near Reading and Rob Meyrick from Southampton.
Each farrier was presented with a magnum of champagne, personalised to display both his name and the colours of one of the winning horses, by Tony Lindsell, a director of Atlantic Equine Ltd, at Richard Hannon's East Everleigh, Wiltshire yard.
Their win came courtesy of seven Group One wins. The filly Sky Lantern was the star of the show, winning the 1000 Guineas, the Coronation Stakes and the Sun Chariot Stakes, Toronado won the Sussex Stakes, Havana Gold won the Prix Jean Prat in France, Olympic Glory won the Queen Elizabeth II Stakes and Toormore won the National Stakes in Ireland.
"We're going for the five-timer in 2014," said Mark Hewlett. " The guv'nor says that Sky Lantern, Toronado and Olympic Glory are all staying in training, and Toormore and other good horses will be three-year-olds next year, so it is far from a vain hope."
The farriers had their share of trials and tribulations in 2013 as four of them suffered injuries or illness and were out for long periods. Richard Alford had a sternum problem, Bert Newman had a stomach operation, Jason Macbeth damaged ligaments in his leg and Mark Hewlett had to have emergency surgery following an accident affecting the tendons in his wrist that will keep him out of action until the new year.
"Our win is obviously entirely down to Richard Hannon's success," said Richard Alford, "but we have to particularly thank him this year for continuing to support us through a difficult year when we have not been able to field a full team for much of the time."
ATLANTIC EQUINE LTD
Address: Unit 5A, Low March, Daventry, Northamptonshire NN11 4SD
Tel: 01327 314880
Fax: 01327 314889
E Mail: sales@atlantic-equine.co.uk
Websites: www.atlantic-equine.co.uk and www.online-equine.co.uk