Applications to turn a hoof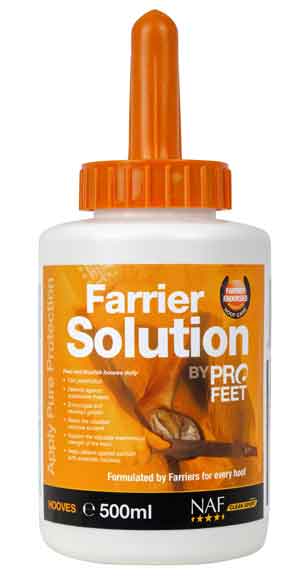 NAF have launched two new applications to provide everyday care for ALL types of hooves.
With over 5 years of research employed in the development process, trialled with top farriers and their toughest clients, the recipe with the influential farriery input has proven to be incredibly successful.
The new products offer a solution for modern hooves, to help enable hooves to conquer the threats they encounter daily, these include:
• Nourishing and protective agents
• Fast penetration for natural ingredients
• Defence against waterborne threats
• Encourage and develop growth
• Helps defend against contact with anaerobic bacteria
• Retain the valuable moisture content
• Support the mechanical strength of the horn
NAF are delighted to be able to provide these new applications to all horses and ponies from the 4th June 2020.
FARRIER'S SOLUTION by PROFEET is a dense liquid hoof application packaged in a handy container with a brush included for convenience and cleanliness. Comfortably sits in your hand while being able to apply with ease. The solution is totally drip free, so you should have no wastage throughout each use, providing an economical solution to total hoof care. Ideal for your tack box, taking with you on show days or simply sat by your stable for continual use. What's more, the natural brush means no leeching of chemicals into the product from plastic bristles, helping to preserve the contents for use.
FARRIER'S DRESSING by PROFEET is an easy to apply dressing, whatever the weather. Great for use on yards, in a handy bucket container to transport from area to area where convenient. Available in a larger size to cater for yards. Ideal to apply daily, to complete the tacking up process, before turnout, during stabled periods or whenever deemed appropriate.
If you are looking for the right hoof care, make the right choice - choose PROFEET and Stamp out Bad Feet!
For further information on hoof care, please contact call our FREE Advice line on 0800 373106 or email info@naf-uk.com