Kerckhaert Kings Plate - Dec update

Sadly Enable was not successful in her bid to secure a third historic win in the Qatar Prix de l'Arc de Triomphe in October but we were delighted to hear she returned fit and well and will stay in training in 2020. She rounded off another superb year for the Gosden team being named the Cartier Horse of the Year for a second time alongside Too Darn Hot (Three-Year-Old Colt), Star Catcher (Three-Year-Old Filly) and Stradivarius (Stayer) also claiming awards for the stable.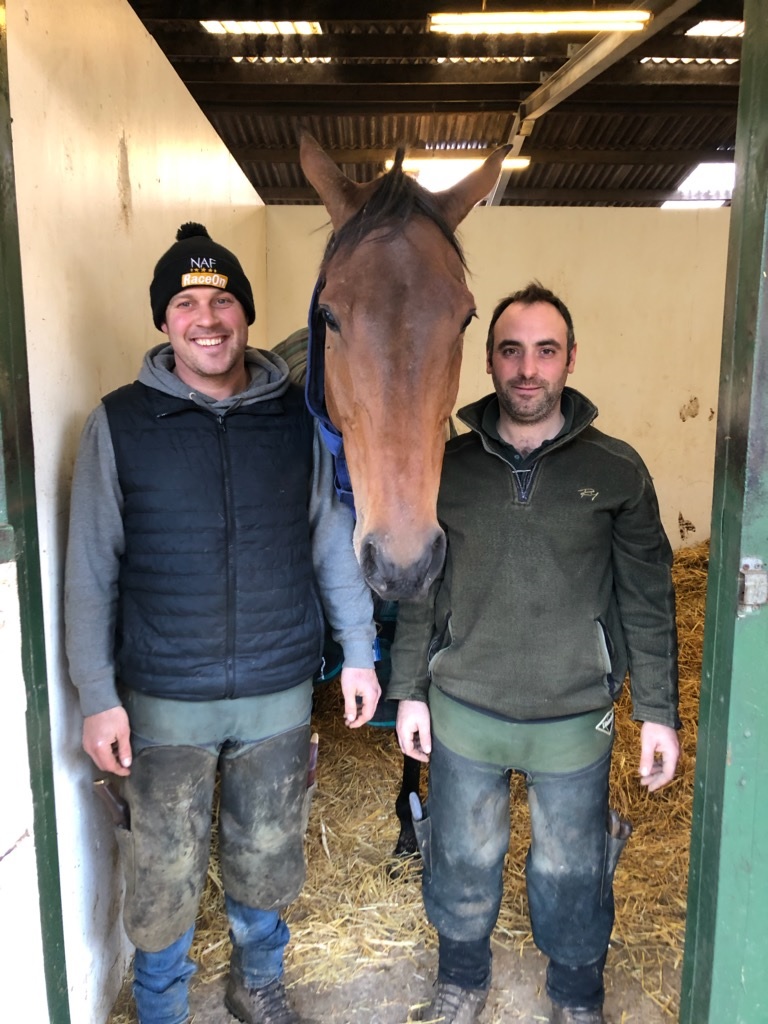 John Benfield (right) and his team had a particularly successful beginning to November with four winners at Cheltenham for Nigel Twiston-Davies and Fergal O'Brien. Ballyoptic also won the Charlie Hall Chase at Wetherby for Nigel Twiston-Davies the same weekend. John uses Kings Extra Sound and Liberty nails.
We were delighted to see Andy Martin Racing secure a brilliant win at Ascot with Militarian. Ridden by son James (also a farrier) Militarian ran a great race to stay on well and win by 4 lengths at a superb 50-1! Militarian is shod with Kerckhaert Kings Extra Sound plates.
A further congratulations must go to Sean Whelan. Sean is farrier to Tom Ellis and Gina Andrews (G & T Racing) who won the Champion Point to Point Trainer title and Champion Lady Point to Point Rider title respectively. A huge thank you to our stockists, Horseshoe & Farrier Supplies (Midlands) Ltd for stocking the yard and Sean with our Kings range. We wish you all the best for this season!
More winners…
Quadrilateral, trained by Roger Charlton, won the Fillies' Mile Group 1 at Newmarket. Quadrilateral is shod by Chapel Forge Farriers and wears Kerckhaert King Extra Sound, nailed on with Liberty nails.
Pinatubo, the unbeaten Godolphin colt, won the Dewhurst Stakes at Newmarket. Congratulations to farrier Phil Brook who shod Pinatubo with Kerckhaert Kings Super Sound, nailed on with Liberty Carrera Cu nails. Pinatubo was trained by Charlie Appleby.
Mysteree won the feature race at Kelso for trainer Michael Scudamore. Mysteree is shod by Wesley Powell with Kerckhaert Kings Extra Sound plates, nailed on with the NEW Liberty Carrera Secure Cu nails.
Star Catcher gave Frankie Dettori his 250th Group 1 with the Fillies & Mares victory. Shod by O'Shaughnessy Farriery with Kerckhaert Kings Extra Sound plates, nailed on with the NEW Liberty nails Star Catcher is trained by John Gosden.
Donjuan Triumphant won the QIPCO British Champions Sprint for trainer Andrew Balding. Donjuan Triumphant was shod by Eugene Cullen with Kerckhaert Kings Extra Sound plates.
Technician, shod by Nick Quinland, won the Prix Royal-Oak in Longchamp. Trained by Martyn Meade Racing, Technician is shod with Kerckhaert Kings Super Sound Fronts and Kings Extra Sound Hinds.
Kameko impressed at Newcastle with a win in the Vertem Futurity Trophy for trainer Andrew Balding. He is shod by Eugene Cullen with Kerckhaert Kings Extra Sound plates.
Cyrname was an impressive winner of the Christy 1965 Chase at Ascot Racecourse for Paul Nicholls. Tom Bougourd shod him with Kings Super Sound Race Plates.
Image right, Dan Collins with Nick Quinlan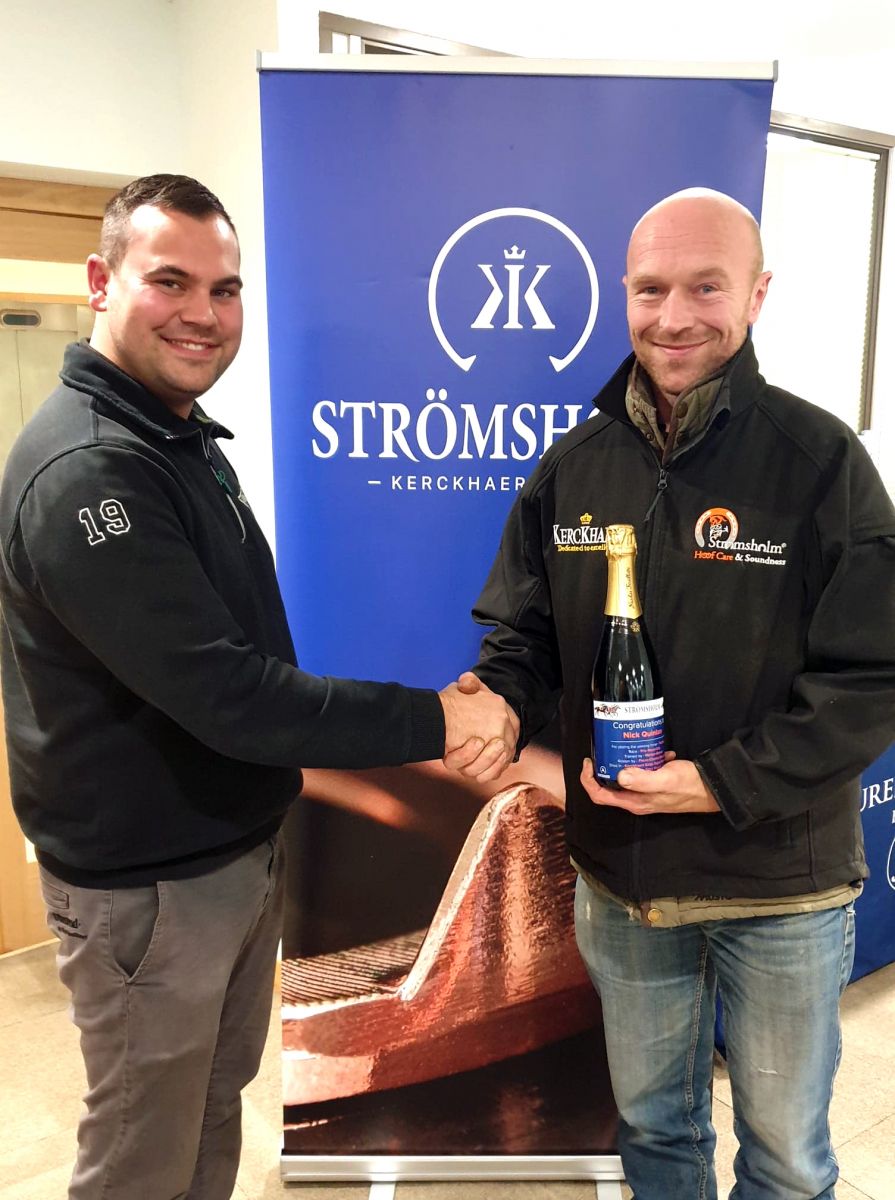 The Championships update!
The end of the year hails the end of another flat racing season and we will shortly be announcing the winner of the Kerckhaert Kings Plate Flat Racing Championship!
At the time of writing the leader boards was as follows -
1 John Gosden O'Shaughnessy Farriery
2 Andrew Balding Eugene Cullen
3 David O'Meara Richard Elkins
4 Charlie Appleby Derek Poupard and Phil Brook
5 Charles Hills Sion Davies Farrier Services
The new season is well underway and we have already seen some great races! The early leaders are –
1 Dan Skelton Ian 'Spud' Allison, Pip Smith, David Webley
2 Paul Nicholls Tom Bougourd
3 Nigel Twiston-Davies John Benfield
4 Nicky Henderson Chapel Forge
5 Phillip Hobbs Ben Parker
Don't miss out!
Contact Dan Collins on 01908 233909 if you have shod a national or international winner with Kerckhaert shoes (from any discipline) to claim your bottle of bubbles!