August is Imprint month!

Imprint Equine Foot Care was established in 2000 and the Imprint mouldable thermoplastic shoes are used across the globe by farriers, veterinarians and universities to aid in the recovery of damaged feet in horses and ponies.
These non-invasive, easy fitting horseshoes have a wide range of applications and their results proven. The Imprint System is a specifically designed composite shoe which has been independently scientifically evaluated and published in a peer reviewed veterinary journal. "Tried, tested and proven" the Imprint Shoe System was also featured in 'Best Designs in Europe' at the European Design Show held at The Design Museum in London.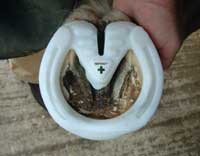 This high quality, results driven, innovative product is supported by a knowledgeable team at Imprint Equine Foot Care who are on hand to provide advice and guidance. Their popular training days enable farriers to use the product to maximum affect to help achieve the best outcome for your client. Training days cover –
Foal development
Hoof reconstruction
Laminitis
Shoeing for soundness
To learn more contact Imprint Equine Foot Care at –
Address: Town Forge, High Street, Malmesbury, Wiltshire, SN16 9AT
Telephone: 01666 822953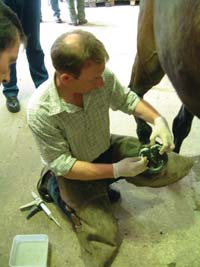 Email: info@imprintshoes.co.uk
Website: www.imprintshoes.co.uk
Follow on Facebook at @ImprintEquineFootCare