Supplier of the Month - NAF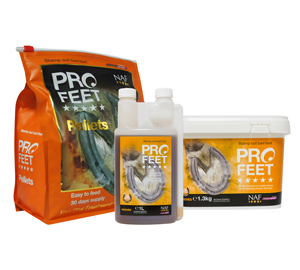 With over 35 years' experience in Nutritional Advanced Formulations and manufacture, renowned not only for our products but our passion for horses everywhere.
PROFEET
After 20 years of working alongside Farriers and understanding their requirements, NAF developed the PROFEET range utilising their research and feedback from farriers. With NAF's specialised team of Qualified Nutritionists and International Veterinary Scientists, they formulated some of the most innovative formulations to date and created PROFEET range.
PROFEET consists of a supplement and applications designed to support the hoof through all environmental and in some cases genetic conditions they may face throughout their lives.
PROFEET supplement:
Our unique formulation ready to feed the feet in 3 different ways – the choice is yours, liquid, powder or pellets.
Designed to STAMP OUT BAD FEET from the inside out. Feeding the hoof is imperative to establish quality horn to enable the horse to perform feeling their best. Biotin has long been recognised as a wonder cure when poor hoof quality is witnessed. However, while Biotin is a proven help, formulated with the right blend in correct ratios, you can look to stamp out bad feet.
PROFEET includes:
Biotin – a soluble B vitamin, therefore NOT stored in the tissues of the horse. Contains Sulphur which helps to strengthen and repair connective tissues which includes the collagen network within the dermis.
Methionine – essential amino acid, the horse cannot produce his own. Like Biotin, Methionine helps to strengthen connective tissues and in turn promote hoof health. Research has determined deficiencies in the diet may lead to poor hoof quality.
Zinc / Copper – each of these have to be offered at the correct ratios, if incorrect the absorption rate of each mineral can be greatly compromised. Both will help reinforce essential bonds throughout the hoof capsule.
Antioxidants – free radicals occur when the body undergoes a chemical reaction most likely to an environmental condition. Antioxidants can prevent or slow down possible damage to cells caused by the free radicals by simply donating an electron.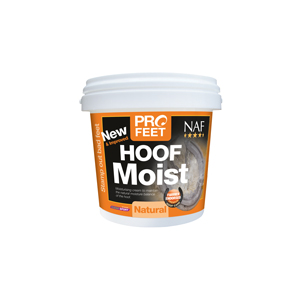 PROFEET applications:
Effective applications are looking to address the bacteria content of the hoof wall, then an additional benefit is whether the application can penetrate the hoof wall to support the correct moisture content. PROFEET seeks to address these elements taking into account the environmental conditions each horse may be facing, naturally.
Hoof Moist – help sustain the moisture fluctuations within the hoof capsule, excellent to replenish dry hooves throughout hot conditions, address a dense central sulcus, cleanse hard to get to areas and help balance the pH of the hoof naturally.
Rock Hard – strengthen soft soles and disinfect frogs prone to bacterial attack, protect their brittle hooves with our unique formulation containing a natural, safe effective hoof hardener, MSM and Zinc for ultimate hoof integrity.
Hoof Dressing – a daily dressing to promote hoof growth, massage into the coronet band to encourage hoof growth and develop strong healthy bonds.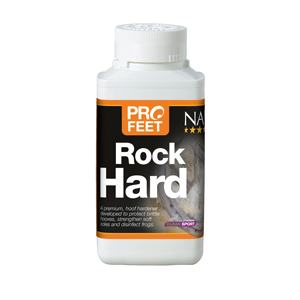 For account enquiries please phone: 01600 710726
For FREE Nutritional Advice please phone: 0800 373106 / info@naf-uk.com
For further information please check out: www.naf-equine.eu/uk