Introducing Stromsholm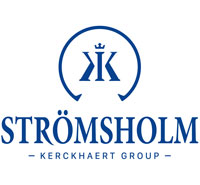 Established in 1972, Stromsholm has grown into the UK's largest farrier supplier, proud to have been awarded the Royal Warrant from her Majesty the Queen.
Today Stromsholm is a distributor for the world's best farriery brands including:
Kerckhaert Horseshoes Our partnership with the Royal Kerckhaert Horseshoe Factory guarantees that our products and services are always leading in the equestrian industry and surpass our competitors in quality, innovation and value. Our unique portfolio of Kerckhaert products makes us a destination store for all farriers.
Liberty Horseshoe Nails Our recently launched Liberty Hybrid Nail brings together the great design of the Liberty nail with a host of excellent new features.
Diamond Tools By combining innovation and state-of-the-art manufacturing technology we are able raise industry standards to offer one of the most sought after tool brands in the world.
Jim Blurton Tools and Equipment Internationally acclaimed brand for the design and manufacture of specialist horseshoes & farrier tools.
Stromsholm Hoofcare & Soundness range Developed by farriers to bring you the best modern hoof care products to keep horses sound with improving performance.
We are committed to promoting good farriery practices through education. Stromsholm organises many CPD events around the country for farriers and apprentices.
We can offer you great deals, offers and tailored special rates with our Silver, Gold and Platinum accounts, available as you progress through your journey as a regular Stromsholm Customer.
If you have any questions about our products you can, of course, contact our friendly sales team on 01908 233909 sales@stromsholm.co.uk and we will be very happy to help.