Five Star Magic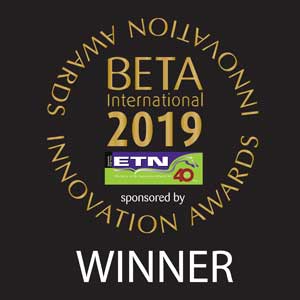 BETA INTERNATIONAL INNOVATION AWARD WINNER – FEEDS & SUPPLEMENTS – 2019
NAF is continually researching new ingredients and conducting trials worldwide in order to further develop their market leading nutritional advanced formulations. Each formulation works to address day to day health and vitality in all horses, enabling them to look their best, feel their best and perform to their best.

Kate Hore, RNutr and NAF Senior Nutritionist, "Market leader in calming, Five Star Magic, was relaunched this year with new innovative additions to the formulation. Showing hugely impressive results in a double blind placebo controlled trial ran over 12 months at The Royal Agricultural University, Cirencester, overseen and conducted by equine behaviour scientists. NEW Five Star Magic actively supports stress responses and learning, promoting excellent behavioural responses and enabling your horse or pony to have a calm, confident and concentrated outlook."
Dr. Andrew Hemmings, Behavioural Scientist, Principal Lecturer in Equine Science, RAU, Cirencester, "Many owners are turning to the wide array of calming supplements currently available on the market. While anecdotal reports of efficacy are widespread, to date very little scientific evidence is currently available. To our knowledge this is the first equine study to demonstrate favourable effects of a calming feed supplement on indicators of brain activity."
The extensive research and NAF's innovative additions to the formulation have been recognised by BETA International and the trade with new and improved Five Star Magic winning the Innovation Award for Feed and Supplements 2019. The judges, selected by BETA, said of New Five Star Magic: "This is a well-researched and presented product, clearly labelled and with instructions that are easy to understand. We were impressed with the depth of research and development that has gone into the new formula."
Magic is a magnesium based calmer as this is an essential nutrient to a horse's wellbeing, and among its many roles is the regulation of nervous tension. As magnesium also acts on muscle tension, a horse low in magnesium may appear 'tight' in his way of going and express excitability or a lack of confidence. Low magnesium may be caused by a grazing deficiency or simply a horse or pony's individual metabolism, but levels can also be reduced by regular travel and competition. However, Magic is much much more than just magnesium; it also contains a unique blend of herbs chosen for their traditional use in supporting confidence and concentration. It is this unique blend of herbal ingredients known to support behaviour, help relax muscle tissue and support concentration that combines its expertise so well with the magnesium base. Making NEW Five Star Magic the right, innovative combination for any situation that could lead to excitability, tension and a lack of concentration.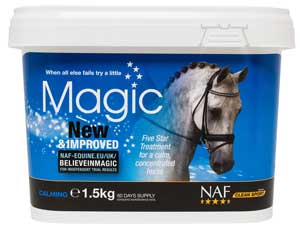 As NAF are passionate supporters of Clean Sport means Magic is not only safe to compete on but it does not produce a sedative response or effect.
Believe in MAGIC and see the differences for yourself.
Available as powder or liquid RRP from £23.99 for 750g
For further details please call the NAF Freephone Nutritional Advice line 0800 373106 or email info@naf-uk.com . www.naf-equine.eu/uk