The Record Breakers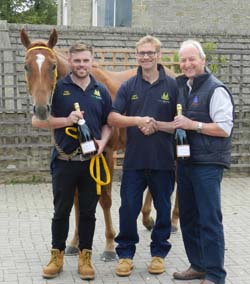 When Mark Johnston hit the magic 4194 winners tally on 23 August 2018 to become the winning-most British racehorse trainer of all time, his three farriers had every reason to feel proud.
Marc Morley, Justin Landy and Tom Hardy are long-time servants of the hugely successful stable and have played an important part in its perennial success.
Many of the extraordinary total of winners have been in Victory racing plates and, in recognition of the farriers' role in the breaking of the record, they were presented with a magnum of champagne each by Tony Lindsell of Atlantic Equine Ltd, U.K. distributors for the Victory Racing Plate Company. The magnums were personalized and carried the date the record was broken.
"It's an honour to work in a yard that has achieved so much," said Marc Morley, the lead farrier. "We've always used Victory plates – you can't beat them!"
Marc was apprenticed in Newmarket and has been at Mark Johnston Racing for twelve years. When he is not shoeing horses, he can often be found on the bowling green. He is a competitive player and the current champion of the Richmond pairs. He has won many other Yorkshire bowls competitions over the years.
Justin Landy has made a name for himself as a trainer in his own right in the hunter chase and point to point field. He has been at Mark Johnston Racing for eleven years. Prior to moving back to Yorkshire he was based in Newmarket where he was farrier to Sir Henry Cecil for a period of time.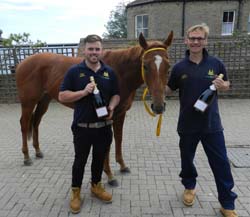 Tom Hardy is in his third year at the Johnston winner factory, having been apprenticed in Yorkshire. A self-confessed petrol-head, Tom owns a Mitsubishi Evo (Evolution), a souped- up , eighteen-year-old replica of Tommy MacKinnon's rally car.
The win of Poet's Society at 20/1 in the Clipper Logistics Handicap at York under Frankie Dettori took Mark Johnston past the 4193 mark previously set by Richard Hannon senior, a yard that also used Victory racing plates for many years.
The new bar will not be set until Mark Johnston hands in his licence and it is hard to envisage anyone being able to match it.
Images top to bottom -
(L to R) Poet's Choice,Tom Hardy, Marc Morley, Tony Lindsell
(L to R) Tom Hardy, Poet's Choice, Marc Morley
Record Breakers - Magnum label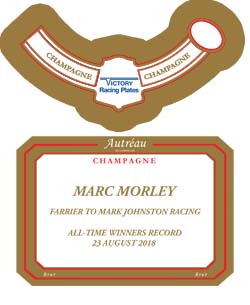 Orders can be placed online, by mail order or by visiting our warehouse.
Address: Unit 5A, Low March, Daventry, Northamptonshire NN11 4SD
Tel: 01327 314880
Fax: 01327 314889
E Mail: sales@atlantic-equine.co.uk
Websites: www.atlantic-equine.co.uk and www.online-equine.co.uk