Stromsholm Apprentice Club News June 2018
Many congratulations to all those in Group 38L who have successfully passed their Worshipful Company of Farriers Diploma; the culmination of 4 years hard work!
Don't forget Stromsholm offer amazing packages and discounts for newly qualified farriers – do not miss out! These deals are designed to support you in establishing your career and new business. Call and speak to our Sales Team on 01908 233909.
The Apprentice College Block Award
We continue to be impressed with the nominations received from the colleges for the Stromsholm College Block Award. This award is presented to highlight the effort made by an apprentice for a particular effort, overcome a difficulty or achieved an excellent standard. It is for the college to decide what the award is presented for and not all blocks will result in an award being made. We are however delighted to confirm –
Myerscough College
Ben Kellett (ATF Paul Gordon DipWCF) was nominated from group 40L at the end of block 4 for being "strong in both theory and practical and again top of the group" and Marcus Telford (ATF Martin Payne AWCF) from group 41L at the end of block 2 for being "totally focused on all aspects of his work and is again top of his group in both theory and practical".
The nomination for the Diploma group is Anthony Beardsworth whose ATF is Paul Gordon DipWCF. "Anthony produced a high standard of work in all areas throughout his apprenticeship."
Warwickshire College
At Moreton Morell the 'Best Apprentices' in college groups 40L, 41L and 38L are Sam West (ATF Chris Powell FWCF), Owen Jenkins (ATF Robin May AWCF) and Jon Zoutewell (ATF Mr K J Green AWCF). Jon was nominated for "consistently good performance with both his practical and theory work".
Hereford and Ludlow College
Tutors at Hereford have chosen to nominate Warren Day (ATF Bradley Greenham DipWCF, Field Officer John Ford RSS) for being the 'Most Improved'. Warren was part of group 38L and has now completed his apprenticeship following successfully taking his WCF Diploma examination.
On behalf of all the Hereford School of Farriery, Holme Lacy, college tutors Alan Woodyatt AWCF and Danny Bennett AWCF Class 1 commented "in his final year Warren Day's practical shoe making and shoeing standards had been going backwards and the tutors were duly concerned, this is when the newly appointed College Field Officer John Ford came to the rescue. From March this year (2018) Warren Day went to ATF Bradley Greenham (arranged by John Ford) for additional support in the forge. Warren also attended every Diploma preparation clinic organised and delivered twice a week by the Hereford college tutors, aimed at providing additional preparation for the practical, theory and oral elements of the Diploma exam being held in May.
Whilst there are many in Warren's group who could also have been worthy nominees, Warren's determination to change his own fortunes and look to the people who could support him when left in a tricky situation paid dividends. In the eyes of the college tutors this makes him worthy of the 'most approved' award for achieving a near distinction pass in his theory and achieving a good pass in the practical shoeing test to gain his WCF Diploma in May."
Prizes have are being sent to the winners of these awards by Stromsholm. Many congratulations to all involved!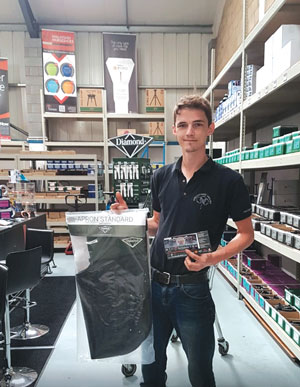 Apprentice Club Monthly Prize Draw
The winners of the monthly Apprentice Club Prize Draw is Jimmy Hill (April) (pictured right) and Thomas Stott (May)! Congratulations to you both. They have won a gift voucher to spend with Stromsholm and goody bag.
Jimmy is being trained by Will O'Shaughnessy AWCF and attends Warwickshire College, Tom is at Myerscough College and is being trained by Jason Sim AWCF.
Apprentice Shoemaking League
At the time of going to print we have three completed sets of result for the Apprentice Shoemaking League which includes Ayrshire Branch, Nottingham County and Devon.
Points in the Shoemaking League have been awarded to all those placed in the Top 6 in apprentices classes and the leader board, by college group, is as follows
39S – James Robinson
39L – Matt Argo
40S – Jarad O'Brien
40L – Sam West
41S – William Friston
41L – Henry Allison
42S – currently uncontested
Points are accrued at competitions across the country for apprentices securing places in the top 6 in apprentice shoemaking classes. Keep an eye on the Facebook page to see which competitions are included and who is in the lead!
Join!
The Stromsholm Apprentice Farrier Club is free to join and is here throughout your apprenticeship. If you haven't already done so do visit the website to do it now and claim your free goodies! (http://www.stromsholm.co.uk/apprentice-club-4-w.asp).