Kings Plate Comp Extends to National Hunt

Stromsholm Kings Plate Competition recognises those farriers and racehorse trainers using the world renowned Kerckhaert Kings Plate.
Historically the successful competition has awarded points to farriers shoeing horses winning wearing Kerckhaert racing plates throughout the flat turf season. The team at Stromsholm would now like to extend the recognition to include those shoeing National Hunt horses.
For 2018 the Kings Plate Competition will follow both National Hunt and Flat racing horses and will coincide with the Trainers Championships, with the winning farriers using Kings Plates in the yards accruing most the prize money.
The flat trainers championship runs from January through to December.
The jump trainers championship runs from April to April.
A prize of superb day out – to be confirmed in consultation with the winners - will be awarded to the farrier(s) responsible for both the flat and national hunt yards operating under the winning trainer. Farriers caring for these yards rarely work alone and it is anticipated that the prize can be enjoyed by the whole team.
Carl Bettison, Managing Director for Stromsholm, is "very much looking forward to monitoring the success of those horses wearing Kings Plates, and the farriers responsible for the work, and we wish you every success for the coming seasons".
Dan Collins
Dan Collins joined the Stromsholm sales team in June last year with a wealth of 13 years first-hand experience within the racing industry. Dan rode as an amateur and worked in racing yards prior to joining Stromsholm, finishing at Paul Nicholls yard in 2013.
With an obvious enthusiasm and interest in equine health and racing, Dan has already visited many farriers and trainers yards using the Kerckhaert Kings Plate and is enjoying following their success. He is "delighted to be working with the leading product in an industry I love".
Kings Plate Success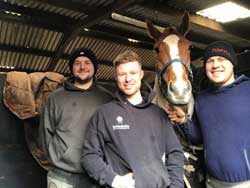 Those who follow the Stromsholm Facebook page will be aware of the success John Benfield DipWCF and his team have enjoyed recently.
John shod Poetic Rhythm (pictured), providing trainer Fergal O'Brien Racing with a first Grade One winner in the Challow Novices' Hurdle at Newbury. Poetic Rhythm, owned by The Yes No Wait Sorries, was wearing Kerckhaert Super Sound plates and Liberty nails.
In addition, Bristol de Mai won by 57 lengths in the Haydock mud wearing Kerckhaert Extra Sound – 7 1/2 fronts, 7 hinds and Liberty FJ0 nails. Dan called in to see him and thanks Richard Bevis 'sparky' for a fantastic tour of the yard!
Bristol de Mai is trained by Nigel Twiston Davies, owned by Simon Munir and Isaac Souede, and ridden by Daryl Jacob.
Other notable wins wearing Kings Plates include –
The New One (trained by Nigel Twiston-Davies and owned by S Such and C G Paletta) winning his fourth Champion Hurdle Trial at Haydock.
Blaklion (trained by Nigel Twiston-Davies and owned by S Such and C G Paletta) winning the Becher Handicap Chase at Aintree and is now Grand National favourite.
Wholestone (trained by Nigel Twiston-Davies and owned by Simon Munir & Isaac Souede) won in the Relkeel Hurdle at Cheltenham.
Splash of Ginge (trained by Nigel Twiston-Davies and owned by J D Neild) won the Bet Victor Gold Cup Handicap Chase at Cheltenham.
Have we missed you? If you have shod a winner – racing or another equine discipline - with Kerckhaert shoes please let us know! Call the office on 01908 233909.