Stromsholm Apprentice Club News Feb 2018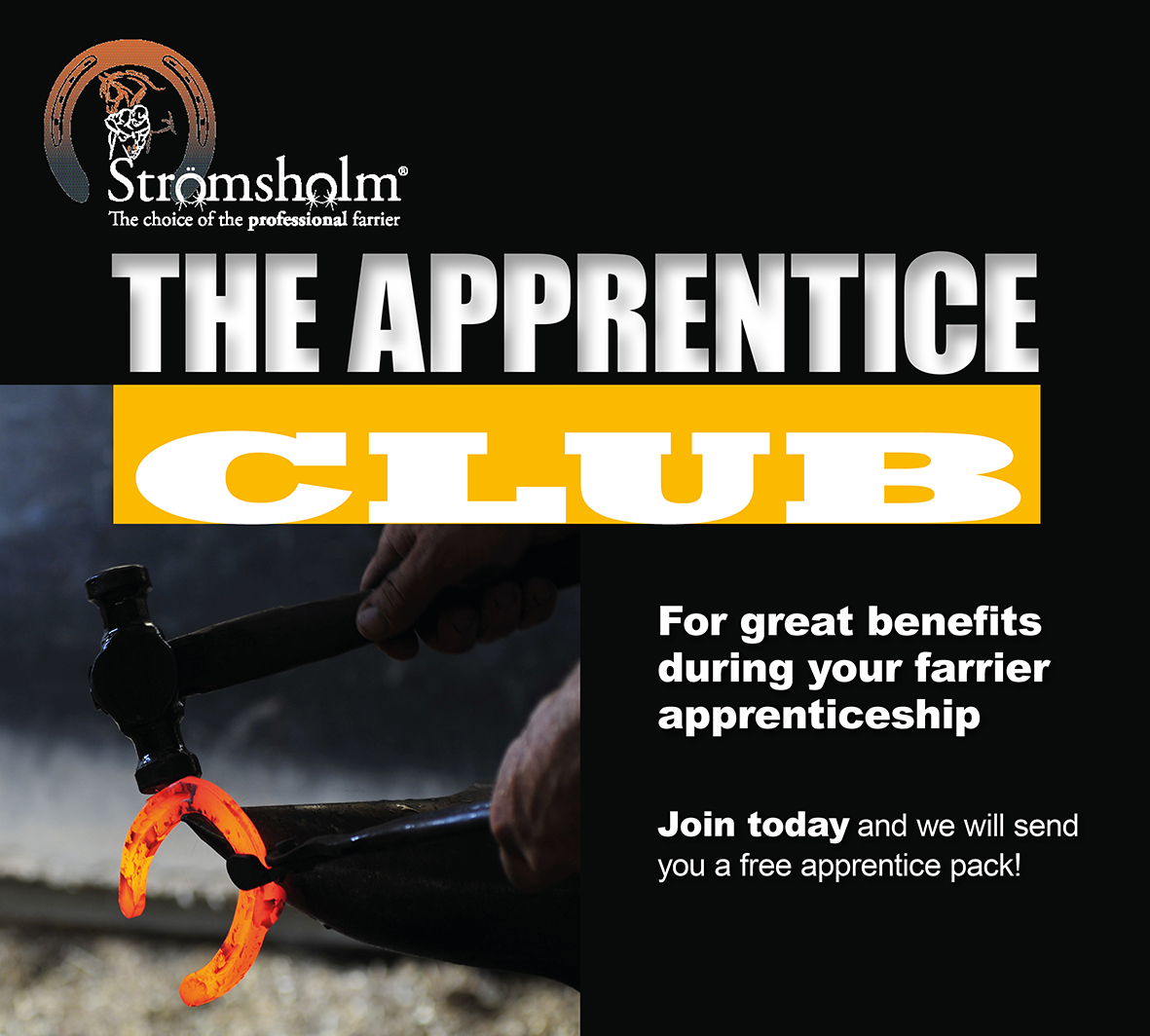 Support in the colleges
The Stromsholm Apprentice Farrier Club is delighted to extend their support to the three farriery colleges in 2018 as part of our ongoing commitment to farriery education.
The College Block Award
A Stromsholm voucher and prizes will be awarded to the farriery apprentice in each college, upon completion of each college block, in recognition of extra effort, most notable improvement in theory or practical or for overcoming a particular challenge. Each completed college attendance is one step closer to the Worshipful Company of Farriers Diploma and this award is to be presented in recognition of those 'going the extra mile'. Winners will be announced on the Apprentice Farrier Club Facebook page and confirmed in Forge magazine.
Myerscough, Warwickshire and Hereford & Ludlow farriery department tutors will each receive dual-branded clothing. Stromsholm will be in attendance during the month proceeding February 19th to welcome the new starts in group 42S.
Apprentice Club Prize Draw
The winner of the monthly Apprentice Club Prize Draw is Robbie Hawthorne! Congratulations to Robbie. He has won a £25 gift voucher to spend with Stromsholm and a bag of prizes including a hat, anatomy posters and wallplanner.
Robbie is being trained by George Kirkby AWCF and attends Hereford & Ludlow College.
Apprentice Shoemaking League
The Apprentice Shoemaking League kicks off once more with the BFBA Ayrshire Branch Competition, hosted by J & A Ferrie Farrier Supplies, on the 22nd March 2018. This competition celebrates its 40th anniversary this year; what better way to start the competitive season?
Points will be accrued at competitions across the country from 1st to 6th place in apprentice shoemaking classes, finishing with the HOSE competition in October.
Keep an eye on the Apprentice Farrier Club Facebook page for updates (@apprenticefarrier) and the Stromsholm website. Good luck!
If you haven't joined already, complete the form to become a member today!