Multitool now in stock with Derek Gardner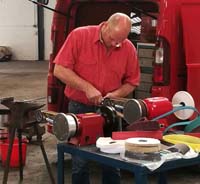 The Multitool Belt and Disc Grinder attaches easily to most brands of 6" (150mm) and 8" (200mm) bench grinders with 'bolt on' wheel guards and a minimum 1/3 horsepower.
SAND - SHARPEN - SHAPE - POLISH - DESCALE – REFINISH
Multitool has a multitude of uses in manufacturing, maintenance and machinery on a large variety of materials including all metals, wood, plastic, ceramic and fibre glass.
Demonstrated by Derek at Cottam's clinic last autumn, the Multitool has 4 separate work surfaces -
​Front contact wheel grinding
Flat platen grinding
Slack-belt grinding
Disc grinding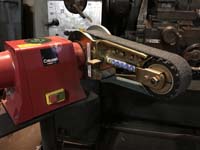 Derek has been using the Multitool for 15 years; his original is still in use. Initially used for finishing fullers, this product is multifunctional, "fantastic and so simple to use".
Belts can also be purchased from Derek, along with a variety of bench grinders. Please get in touch for the packages available.
Priced at £190 plus VAT and carriage, the Multitool is in stock now and is available on the DG Farrier Product website – www.dgfarrierproducts.co.uk, by calling Derek on 07730 898216 or contacting one of our stockists.