20% off SoundHorse Flexx Direct-Glue Shoe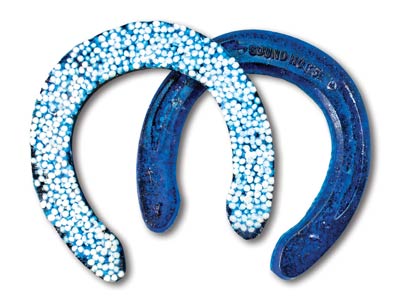 The Flexx shoes are lighter than aluminium and less than a quarter of the weight of equivalent steel shoes. They have a flexible wire insert in the core for shaping and are manufactured with an abrasive grit concentrated at the ground surface to aid both wear and grip. The shoes now feature grABS technology on the hoof side to generate a remarkably strong, reliable, adhesive bond without the need for surface preparation. This is achieved by using a thermoplastic material (ABS) that is more compatible with the commonly used acrylic adhesives such as Equilox or Hoof Life. Acrylic adhesives are recommended for these shoes as opposed to the two-part urethane adhesives.
Flexx shoes are available in Sport (similar to the Classic Roller in design), Roller Motion and Training versions in a wide selection of sizes.
Normal price: £31.95 + VAT per pair. Discounted price: £25.50 + VAT per pair.
Carriage will be free in mainland U.K.
This offer will last until 15 June 2017. Please quote FF5 to secure your discount and specify which type and size of Flexx you require.
Telephone 01327 314880 or e-mail: sales@atlantic-equine.co.uk