New! Bellota Razor Plus

Internationally renowned for their advancing technology and consistency in quality, Bellota have recently launched the new Razor Plus. This rasp replaces the original, and very popular, Razor rasp.

The Bellota Razor Plus has evolved to feature –
• A new, more aggressive, tooth angle
• Perfectly uniform teeth
• A chromium steel, formulated to stay sharper and last longer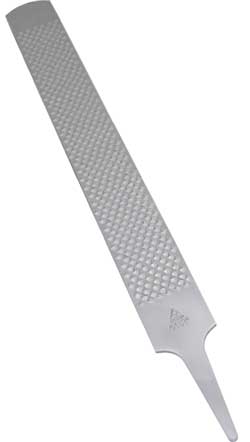 This hoof rasp has been subject to Bellota's extensive development and rigorous testing. The quality of material used to make the Razor Plus is superior helping to ensure the rasp stays sharp and has a longer life. Such is the effectiveness of the Razor Plus it will save both time and effort which has been confirmed in trials by farriers.
"This is a pretty dang good rasp! I liked it very much. The file side is sharp and the rasp side is good, and didn't scar the horses' feet. It worked really well. When I used the second one, I found it to be just as good as the first." – Eddie Williams, Kentucky, USA
The Bellota Razor Plus is distributed in the UK by Stromsholm. Managing Director, Carl Bettison AWCF (Hons), has been using the rasp for some time –
"I found the new Razor Plus rasp is very sharp and has very little grab when new, so it's very easy to use. The coarse side really moves a lot of hoof with very little effort, which makes trimming much easier. The smooth side works very well too. The Razor Plus is staying sharper and lasting longer than all the other rasps I've used. " – Carl Bettison AWCF Hons, UK