London, Rio and beyond; farriery at its best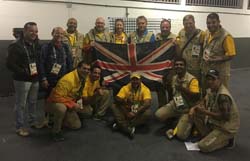 London 2012 was an historic event. From the tremendous medal haul and wealth of sporting talent to the commitment, professionalism and inspiration it offered new generations of athletes. The Forge was no exception.
National Technical Official (NTO), Jim Blurton AWCF, lead farrier at the London Olympics together with Ben Benson AWCF (lead farrier at the Paralympics) lead a team of 13 farriers who provided around the clock care. Such was their attention to detail and exemplary professionalism; both were invited to return to take up their roles in Rio 2016.
Similar to London where farriers from past (Beijing) and future (Rio) Olympics worked alongside the host nation, in Rio the team consisted of both London and Tokyo representatives. Dean Bland DipWCF (Hons), Craig D'Arcy BSc Hons (AWCF) and Edward Dailly CMF completed the UK representatives for the farriery team in Rio.
Throughout the competition, from the arrival of the horses to their departure, the farriers were stationed at key points. From the forge and stables, to the warm up arena's and the start and finish of the cross-country every effort was made to ensure that shoeing related issues could be both minimised and resolved as quickly as possible. Irrespective of a competitor's nationality it was the goal of the entire farriery team to see each combination take their opportunity to compete to the best of their ability. The rapid response to emergency situations made the difference in the medal tallies including an individual and team gold for one particular horse and rider, an effort which Jim and Ben acknowledge they are "immensely proud of".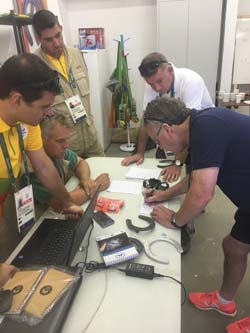 Building on from the success of the clinics provided in "down time" in the forge in London, Jim, Ben and the rest of the team shared their knowledge to provide a course of lectures and demonstrations to the next generation of farriers and volunteers, something Jim hopes will be "continued at future Olympics" and will "help to build a legacy for the farrier industry".
Celebrating our products
The success of every horse getting to the Olympics is an achievement in itself and naturally, Stromsholm followed each of the Team GB horses throughout 2016 – particularly those wearing our products. We would like to congratulate those farriers that take care of these horses throughout their entire career; Stuart Packham DipWCF, Nathan Appleton DipWCF, Haydn Price DipWCF (Hons), Ian Allison DipWCF and Richard Spence AWCF.
So many were moved by the phenomenal individual Gold secured by Nick Skelton and Big Star; a fitting title in an incredible career. Farrier, Ian (Spud) Allison shared the delight of so many fans on such a special, if "long overdue", win. Spud reiterated the importance of the team effort and working together and recognises the contributions of everyone in Big Star's care. He specifically acknowledged his close working relationship with equine vet Dr. Alejandro Rey D.V.M, M.S from who he received incredible support and input from. Carl Bettison was on hand to provide the champagne that Nick presented to Spud, on behalf of Stromsholm, following their Team Gold in 2012. Big Star has worn Kerckhaert shoes, distributed in the UK by Stromsholm, throughout his career. To gain the individual medal this year was incredibly special.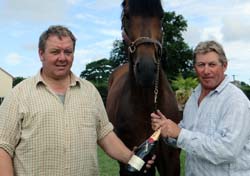 Haydn Price is regular farrier to no less than 5 horses who took part in the Olympics in Rio, a "milestone" he is "immensely proud of". Lead Farrier for Performance in Dressage and Showjumping this was Haydn's 4th Olympics and, in his opinion, the Olympics in which "the horses were exposed to some of the best facilities he has ever seen". He also remarked on the amount of interest from outside the equine world with regards to the horses, particularly their travel and care arrangements, perhaps in part due to the proliferation of social media and our ability to be 'involved' with every aspect of the journey.
Kerckhaert shoes feature heavily in all the horses Haydn cares for and he now uses the Liberty Cu nail exclusively. The use of this copper coated nail, since its relatively new introduction to the market just 12 months ago, has grown extensively and featured prominently at the Rio Olympics, not just within Team GB horses hooves but others across the world too.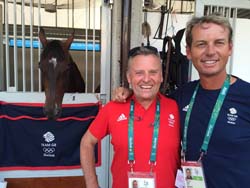 Continuing Education
Education is at the heart of Stromsholm's activities. Earlier this year Stromsholm were delighted to be able to utilise the skills of Jim, Ben, and Haydn in a series of 'Olympic Farrier' clinics which took place in South Wales, Kent and Stoneleigh. These small hands-on clinics provided an insight into business practise, gait analysis and the application of modern materials to specific groups of farriers. These specialist clinics received highly positive feedback and proved to be particularly educational events. We thank them for their time and look forward to providing further events in the future.