Jim Hayter wins WCF Best Shod Award at Aintree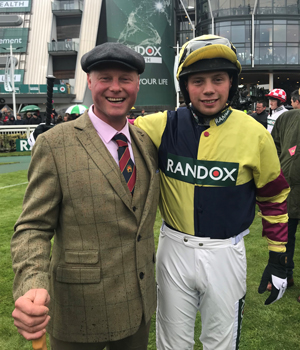 The saying goes, "No Hoof, No Horse!" Farrier James Hayter DipWCF Hons has been well recognised on the eventing circuit for his excellent shoeing ability, having won the prestigious Worshipful Company of Farriers (WCF) 'Best Shod Horse Award' at Badminton and Burghley on more than one occasion.
Following on from his success at Aintree last year, James has once more won the award for shoeing racehorses. Judged by Jim Blurton AWCF and Sarah Beane FWCF, James was awarded the award in the Foxhunter's with the horse Never Complain, an 11 year old, 16.2hh chestnut gelding by Beneficial. This award is very special as Never Complain is owned by The Glebe House Racing Club, a small group of friends (The Marshalls, The Pennells & The Hayters) the trainer, groom and farrier and ridden by Charlie Marshall. It is a real family affair and many evenings are spent together round the kitchen table enjoying roast dinners and summer BBQ's.
"Just getting to Aintree was a huge achievement" - 3 weeks prior to the race 'Neville' was under veterinary care as "he didn't feel right" and it was decided he wouldn't run. Some TLC at the family run yard of Charlotte Marshall and a week before the race it was all systems go! He ran a super race, jumped brilliantly and came home safe and sound which is all you ask for when you see how big the Grand National fences are up close.
Following his win at Aintree last year James said "..having won the award on the eventing circuit it is great to get recognition shoeing a racehorse." And he's done it again!