Huufe: The Horse Riders App is Live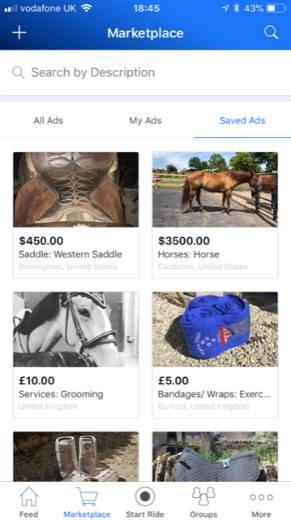 Huufe is the first social media platform that is 100% built for equestrians. It combines ride tracking with pictures and video sharing, stable management, classifieds, riding groups and cutting-edge accident detection and notification. The Huufe App is now live on iPhone and gaining members very rapidly. The US is taking an early lead with the most Huufe members, followed by the UK, Canada, Australia, Germany, France and New Zealand. Android & website versions are following shortly. It is a free app with some in-app purchases available.
Social media has become an important part of our equestrian lifestyle. We share our pictures, videos and stories. We buy and sell horses, trailers and tack on our favourite websites. We follow our friends, riding heroes and group posts. But current social media wasn't designed with equestrianism in mind. It doesn't combine social activities with features such as riding routes, riding safety or stable management. Existing social media also doesn't work with equestrian governing bodies, affiliates, charities, breed associations or brands. Huufe does.
Early user comments during beta testing include:
"Loving the app so far! nice to have one app that does everything".
"This is great! It's just pure horseyness!
"Tracking my rides and sharing them. Brilliant!"
Huufe CEO, Charlie Trietline, knows this equestrian world well, he grew up the son of a National Hunt trainer with up to 100 horses under his care. He rode as an amateur jockey for a while and continued to do so in his first job, in The Household Cavalry. His passion for horses wasn't diminished when he moved into the technology sector, working for HP. Indeed, it presented an interesting question. Trietline states: "I started to wonder why equestrians were underserved with activity tracking, compared to runners or cyclists. There were quite a few smartphone apps to track a person's exercise routine, but nothing for riding." Out of this observation, Huufe was born. "It was quickly apparent that, when tracking rides, we needed to have pictures and videos automatically attached. We could also massively enhance rider safety by allowing people to follow the location of loved ones, in real time, and be alerted immediately if they had a fall." Huufe quickly also added supporting features such as horse profiles and a stable management calendar to help manage veterinarian, farrier, vaccination etc. administration. More features are being built into the app ahead of its launch in late spring. "After that the 'road map' for Huufe features will be user driven" Trietline adds. "This is an app for the equestrian community, so we will add what riders want."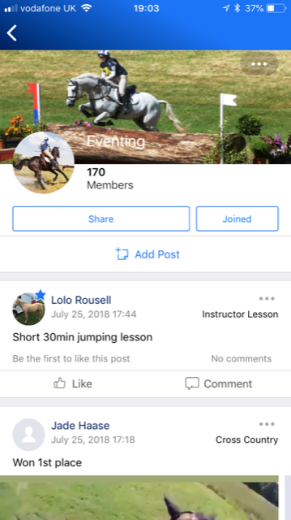 The Huufe team has some expert advisors in Will Connell, Director of Sport at US Equestrian Federation and Richard Waygood, British Eventing Team Performance Director. The team has also reached out extensively to the equestrian community for direction. Early user feedback has been enormously encouraging. "Why isn't this already available?" being the most common response. The feedback also strongly requested a classifieds section – a feature that wasn't originally planned. "We listened and decided to add a marketplace" says Trietline. "Indeed, the biggest challenge has been deciding what rider requested ideas to include at launch and what to develop subsequently. There's much more exciting stuff to come!" He added.
The app can be downloaded in the Apple App Store.
The website offers further detail https://huufe.com