Greg Rutherford and Owen Bush bladesmithing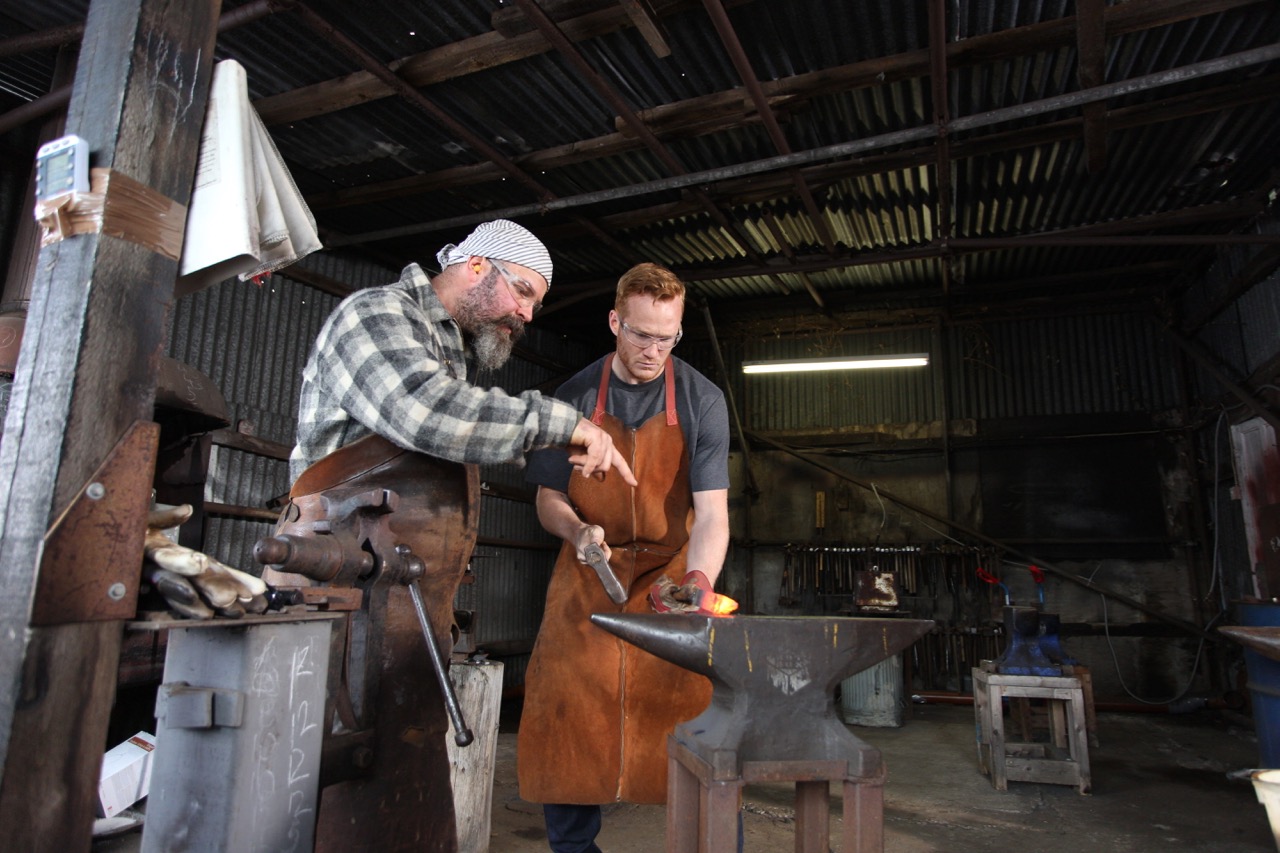 Greg Rutherford MBE, stars in short films for TV channel, HISTORY®
Greg Rutherford, MBE pictured in Kent forge with British blacksmith, Owen Bush, for short films
Olympic gold medallist Greg Rutherford will star in a series of short films on TV channel HISTORY® where he will learn the art of bladesmithing. Under the expert tutelage of Kent-based bladesmith, Owen Bush, Greg learns the ancient craft of forging iron and steel to create historic tools and weapons.
Filmed in Owen Bush's forge in Kent, Greg will learn how to create the "Seax" (Saxon long knife) using only raw materials.
The short films will promote the new series of HISTORY's top-rating weapon forging competition show Forged In Fire, described by The Guardian as: 'Bake-off with Tomahawks'. The partnership with Greg follows his unsolicited tweets about the hugely successful show on HISTORY (see below).
The short films (1x90s & 1x180s) will premiere on the channel on Thursday 29th March to highlight the exclusive new series of Forged in Fire on HISTORY which premieres at 9pm.
Greg Rutherford said: I'm a massive fan of Forged in Fire, so much so I've even bought some books on forging and I actually really want to build my own forge in my garden. When HISTORY gave me the opportunity to have a go I jumped at the chance, I enjoyed it so much I've booked some more lessons - this is definitely the start of a new passion!
HISTORY previously filmed with Kent native and bladesmith teacher Owen Bush in June 2016 for Forged in Britain, a series of short films focusing on UK bladesmiths and forgers.
Forged in Fire series premieres every Thursday at 9pm on HISTORY from 29th March.
HISTORY is available on Sky 529 / Virgin 270 / BT 327 / Talk Talk 327