Farrier receives welfare award from the BHS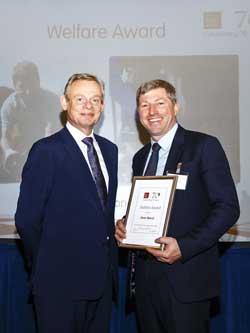 Dean Bland, the founder and owner of Well Equine, was recognised for his contribution to equine welfare at The British Horse Society's (BHS) annual awards ceremony, held at Saddlers' Hall in London.
Dean was presented with the BHS Welfare Award for his work with both individuals and equine organisations to highlight and improve equine welfare around the world.
Dean is a farrier with over seventeen years' experience. His working life reflects his interests, including both practical farriery and educational and welfare consultancy. As a farrier, he works with horses with specific needs: competition horses; horses with conformational and lameness issues and horses referred to him by other paraprofessionals, working as part of a holistic approach to equine welfare and equestrian performance.
As the founder/owner of the educational consultancy company Well Equine he helps equine organisations and individuals to support the lives of working equines around the world through training and facilitation, project development and research and welfare provision. Organisations Dean has worked with include The British Horse Society, Redwings Horse Sanctuary, World Horse Welfare, Imprint Equine Foot Care and The British Farriers and Blacksmiths Association.
In 2016, he joined equestrian athletes from around the world to work as part of the Equestrian Support Team at the Rio Olympics under the Olympic and FEI flag.
Dean said 'I feel very honoured to receive this BHS Welfare Award. It was great privilege to be a part of the awards ceremony and be in the presence of so many inspirational people. I feel it is testament to the BHS and their values that they bring people together to celebrate these lives.'