Farriers Clubs & Organisations
There are a number of farrier groups across the UK that regularly engage in a variety of activities both educational and social! If you are an organiser or a member of such a group, email or call Claire to find out how your group could be featured amongst these pages.
---
The Welsh Associate of Farriers and Blacksmiths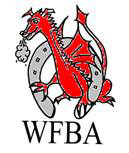 Click here for more information on The Welsh Association of Farriers and Blacksmiths
The Royal Welsh Showground,
Llanelwedd,
Builth Wells,
Powys
LD2 3SY
---
Yorkshire Farriers (YFEDA)

The Yorkshire Farriers Educational & Demonstration Association (YFEDA) was created in 1904 to support the on-going training of apprentice and qualified farriers across the whole of Yorkshire.
We hold throughout the year number competitions open to farriers from across the country, these include Otley Show, Tockwith Show, Londonderry Forge Competition and the British Team Championships in conjunction with Countryside Live.
We also hold a number for training days for apprentice farriers, these are a fantastic opportunity for apprentice farriers to have a hands-on training experience with some of the best farriers in the country. These days are an unmissable part of an apprentice's 4-year training to become a qualified farrier and YFEDA are committed to encourage as many apprentices as possible to participate in them.
Along with apprentice days we also hold training for our qualified farriers, this is for them to undertake further training to achieve higher level further to the DipWCF that they already hold. Once a farrier becomes qualified he/she gains the DWCF (Diploma of the Worshipful Company of Farriers), after this they can then go on to become an ATF (Approved Training Farrier) so they can take on apprentices, an AWCF (Associate of the Worshipful company of Farriers, and then a FWCF (Fellow of the Worshipful Company of Farriers). All of these further qualifications take a huge amount of training and dedication from the farrier involved and the YFEDA encourage and help with the theoretical and practical sides of these further examinations.
Membership form can be sent, just email yfeda1904@gmail.com or download here.
Committee board:
Adam Fox 07778376053 Tockwith Show
Ben Grange 07875229381 Otley Show
Gary Harland 07710161668 Tockwith Show
Toby Pedley 07552232304 Apprentice Coordinator
Jason Gajczak 07515560075 British Team Champions Countryside Live
Huw Dyer 07740723118 Londonderry Competition
---
The British Farriers and Blacksmiths Association (BFBA) have a number of branches nationwide. To locate your nearest branch contact Head Office on 02476 696595.