Leg Dissection with Amy Barstow BVetMed (Hons)
Date: 13th March 2018
Stromsholm Apprentice Club "Fantastic" Leg Dissection with Amy Barstow BVetMed (Hons)
Stromsholm Newmarket Race Division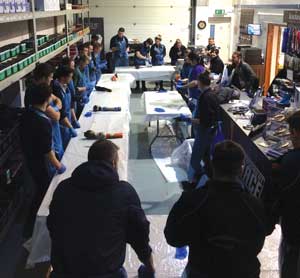 A dozen and a half farriers and apprentices were warmly welcomed to a hands on leg dissection evening at the recently launched Stromsholm Newmarket Race Division in Enterprise Court, Studlands Park Avenue.
Led by Royal Veterinary College Assistant Lecturer Amy Barstow, along with two veterinary students Jess Mazzagatti and Zoe Inglis, groups of 2 or 3 shared a distal limb (carpus down) with the aim of leading their own dissection to help consolidate their anatomy knowledge. Amy noted the enthusiasm of all who attended expressed by the willingness "to get stuck straight in"!
The correct identification of left or right, front or hind was discussed along with the best indicator of doing just this by looking at the hoof capsule or the bones themselves.
The RVC team divided their time between the attendees to both quiz them and assist with the dissection. Amy noted that the farriers were very good at identifying the flexor tendons and the suspensory ligament but the annular ligaments need careful dissection to reveal so assistance was provided to locate them before cutting through to reveal the manic flexoria (where the superficial flexor wraps around the deep digital flexor tendon) sometimes known as the collar. Amy also made sure that they were able to identify the sesamoidian ligaments too.
Removing the sole and the hoof capsule can be challenging but enabled the farriers and apprentices to sufficiently reveal the laminae, distal phalanx and navicular bone. This gave them the opportunity to see the attachment of the deep digital flexor tendon to the distal phalanx and to examine how the structures of the foot all fit together.
One leg had a fracture to the proximal phalanx which made for an interesting dissection and provided an opportunity to discuss why this may have happened and why this bone is so commonly implicated in fractures.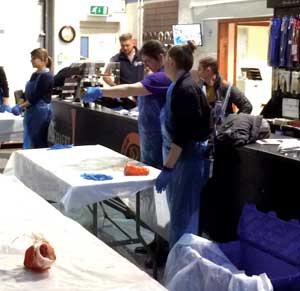 Clinic attendee Alex Ridgeway DipWCF reiterated that the clinic was a "great opportunity for hands on practical learning for apprentices and farriers".
Dan Collins, Stromsholm Sales Coordinator, would like to thank all who came to the evening and to Amy, Jess and Zoe for leading such an insightful dissection. Dan noted the many positive comments from all who attended confirming that it was a valuable educational exercise. The evening was described as "fantastic".
Keep an eye on the Facebook pages (Stromsholm Farriers Supplies and Stromsholm Apprentice Farrier Club) for dates of future clinics including further combined veterinary and farriery sessions!