A Test of Mettle on Hot Metal
Date: 31st January 2018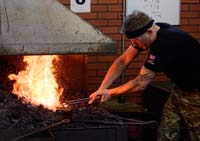 Fires burned and hammers rained down on hot metal as soldiers from The King's Troop Royal Horse Artillery and The Household Cavalry went toe-to-toe in a horse farrier competition.
The event at King George VI Lines, Woolwich, saw qualified Army farriers and their apprentices battling in the Inter-Regimental Shoeing Competition.
Teams from The King's Troop Royal Horse Artillery, The Household Cavalry Mounted Regiment and the Defence Animal Training Regiment were tasked to create two horseshoes to exact specification in 60 minutes.
The tough test in the heat of coke fires required remarkable hand and eye dexterity, impressive craftsmanship, and teamwork as well as a strong relationship with the horses.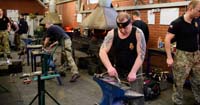 Sergeant Luke Goddard, the competition organiser, said: "It's a difficult challenge for all of the soldiers involved and it's a real test for the qualified and apprentice farriers.
"It's great for training purposes to get farriers of all levels working together as a team."
The competition required each member of a four-person team to shoe one hoof each and provide a specimen shoe of the judge's choice.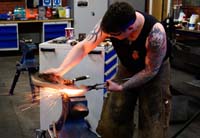 The front feet needed to be shod with concave steel while hind feet required a three-quarter fuller.
Each competitor was given 60 minutes to complete the task ahead of being judged.
After much painstaking deliberation the winners of the competition was judged to be The King's Troop Royal Horse Artillery, with the Household Cavalry Mounted Regiment second and the Defence Animal Training Regiment third.
The best specimen was produced by Sgt Gooding; the best dressed foot was produced by WO2 McCabe and the Best Apprentice overall shoeing prize was won by Bombardier Cooksley.