Farriery Competition

Welcome to the page dedicated to providing you with everything you need to know about the 2014 European Farriery Championships! In Austria in 2012, Henrik Berger successfully secured the title ahead of Reserve Champion Gert Yan Salm. 2010 European Champion David Varini was in third. A terrific competition, showcasing incredibly talented farriers across Europe - who will win the title in the UK in 2014?
The Judges
We are absolutely delighted to have secured the services of two highly regarded Judges for the 2014 European Farriery Championships. Our thanks to them for accepting the invitation, the time taken to make the Specimen Shoes and for joining us at the Championships.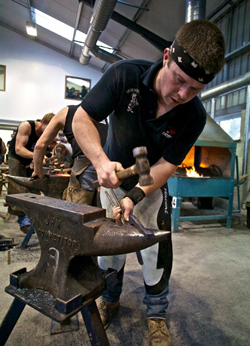 Vincent Lamaille (Belgium)
Vincent completed his training to become a farrier in 2004, prior to this he had worked in a sports horse stables.
Once he had graduated he began to compete in open farriery classes with a great deal of success – Vincent became Belgian Champion in 2008 just four years after qualifying! He has continued to compete across many countries and notable wins include becoming winner of the French Cup in 2010, 4th in the 'Individuals' at the International Team Shoeing Competition at Stoneleigh, UK and 20th in the World Blacksmith Championships in Calgary.

Vincent has a dislike for boring customers but cites getting horses sound and promoting good feet as being a particularly rewarding part of the job. Notably, Grant Moon AWCF, is a main source of inspiration.
In time away from shoeing horses, Vincent is a keen follower of showjumping.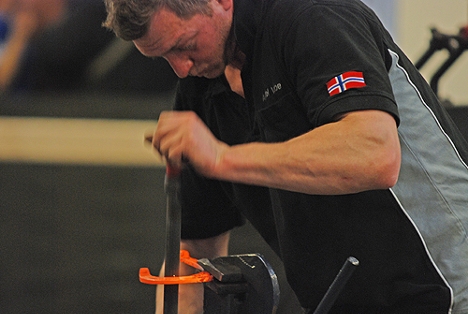 Aksel Vibe (Norway)
Norwegian Champion, Nordic Champion and European Champion - just a few of the farriery competition titles gained by Aksel Vibe.
Aksel grew up on a farm and has been with horses, and wanted to be a farrier, for as long as he can remember. In his current practise a large majority of his cleints are showjumpers and dressage horses.
Amongst his inspirations Aksel sites Richard Ellis, his team mates from Calgary 2013: Jesper Ericson, Jonathan Nunn and Grant Moon and his son William.
Whilst he doesn't like clients that don't respect their horses and the job farriers do for them he finds farriery at its best when he 'gets back what he puts in'.
The Timetable*
Thursday 24th July

Practise time

6pm Competitors Meeting

Friday 25th July

Morning: Prepared Forging Class – 2 shoes, 50 minutes (one shoe from each judge)

Midday: Eagle Eye – 3/4 fullered straight bar with no clips but must include a toe centre dot, 25 minutes

Afternoon: Surprise Forging Class - 2 shoes, 50 minutes (one shoe from each Judge to be announced and displayed at the Competitors Meeting on Thursday 24th July.

Saturday 26th July

Morning: Speed Forging Class – 20 minutes

Midday: Eagle Eye – 3/4 fullered straight bar with no clips but must include a toe centre dot, 25 minutes

Afternoon: Each Competitor to Shoe a Foot with a ¾ Fullered Shoe and make a Specimen – 1 hour (toe clips on front and hind feet)

Announcement of Top 10 in The Stumble Inn

Sunday 27th July

Morning: Top 10 Competitors Shoe 2 Front Feet with ¾ Fullered Shoes – 1 hour and 10 minutes (toe clips)

1pm Announcement of Top 5 in Marketplace

Afternoon: Top 5 Competitors Shoe 2 Hind Feet in ¾ Fullered Shoes – 1 hour and 10 minutes (quarter clips)

Banquet and Prize Giving 7pm (Marriott Hotel, Preston)
*This is a provisional timetable and may be subject to amendments.
Rules
Click here to view the 'Rules for the European Championship' according to EFFA
Click here to download rules specific to the 2014 European Farriery Championship. Please note these rules are provisional and will be subject to amendment. Updated 31.05.14
Specimen Shoes
| | |
| --- | --- |
| | The competition will be run out of gas. |
Entry Details
An invitation to compete has been sent to the EFFA Member Association in each country.

For a full list of member contacts, visit the EFFA website.

Competitors wishing to compete should apply to their Association. It will be for the EFFA Member Association to decide whether a competitor needs to be a member of their Association.

In a country where no EFFA membership exists, a maximum of four individuals may enter to compete.

ENTRIES ARE NOW CLOSED.
Competitors
Please note this is a provisional list, correct at 6th June 2014, but may be subject to amendment.
Times
Thank you to Tom Ryan for preparing these so early. This timetable is provisional and may be subject to amendment.
Prize Fund
In addition to the prestigious title of '2014 European Farrier Champion' we are delighted to confirm prize money of £1500 for first place and a further £1000 to be split between 2nd and 3rd place.
We are indebted to the very talented Mike Randles AFCL for making this totally unique trophy from damascus steel for the winner of the European Championships 2014. Our thanks to Mike - as if the competitors needed anymore of an incentive, this trophy is a work of art!

Each competitor will also receive a horse brass from the Worshipful Company of Farriers –

"The Worshipful Company of Farriers is looking forward to presenting all competitors at the EFFA Championships with a horse brass featuring the Company's crest. The Company chose to present horse brasses because they represent the Company's historical responsibility for farriers and horse welfare, and because horse brasses are a very traditionally British harness decoration. The use of horse brasses developed in the mid-19th century as part of a general flowering of the decorative arts following the Great Exhibition of 1851. By the late 19th century heavy horses were decorated with brasses of all kinds and sizes, and brasses were becoming a collectors' item. As the era of the heavy horse declined, many horse brasses found their way into country public houses, and are still seen in many pubs today. It is hoped that the horse brasses will provide a memento of an exciting EFFA Championships, and an enjoyable visit to the UK."
The winner of the five qualifying classes will each receive £100 cash courtesy of Londonderry Forge Supplies.
The first, second and third placed Competitors in the hoeing Class will receive a 500, 350 and 150 Euro voucher respectively courtesy of Werkman Horseshoes.
Furthermore we have the following contributions to the prize fund confirmed –
2 year e-hoof license, 2 x Bassoli rasps per competitor, Bottle Prosecco for the Champion from the Marriott Hotel Preston, 10 x Bernard Duvernay Secure Tie Ropes, 10 Simon Bodner Stamps, 1 Con Cuero Farrier Apron, 2 large bottle of very good wine from La Rioja (Spain) from Con Cuero, Pail Life Data Double Concentrate, selection Jon Atkinson tools to include fullers and tool compund, Mondial Nails.
The Results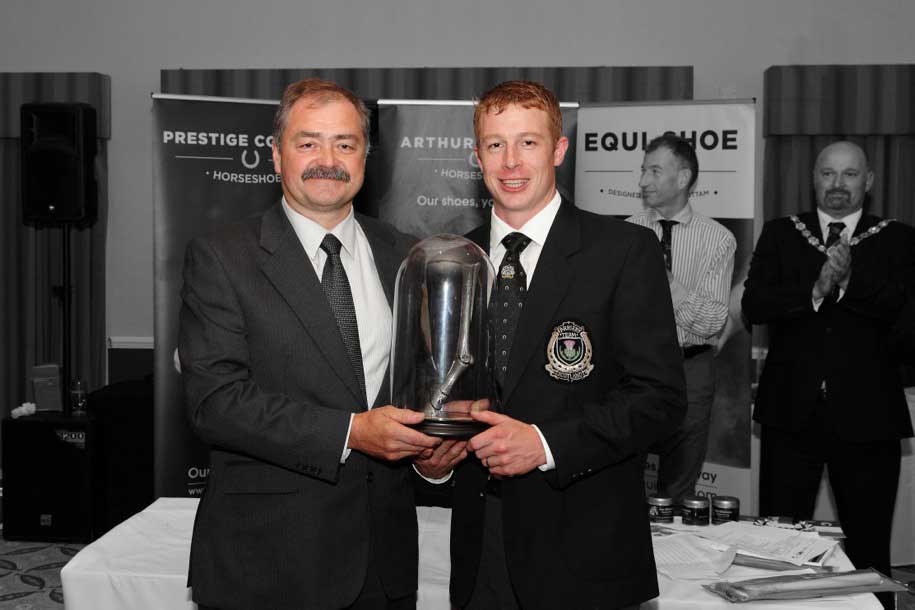 Huge congratulations to 2014 European Champion David Varini, Scotland, UK! What a terrific final, full with talent.
Congratulations to everyone that took part. You made the competition one to remember.
Full, individual marks, can be downloaded here -
Top Ten to Qualify for Top Five
Photography
We are delighted to have Steve Cave present as our photographer. Steve is a professional photographer based in the beautiful Forest of Dean and he specialises in professional portrait and wedding photography.
Steve is friends with many farriers and is a regular at farriery competitions and social functions. Photographs taken at the competition will be available to purchase.

Our Sponsors
We are extremely fortunate to have within our industry some of the most supportive, loyal and generous companies. We are indebted to them for their support and we thank them for their sponsorship. It is not a cliché; without our Sponsors this event would not have gone ahead.
Please take the time to visit our Sponsors page to acknowledge each and every one of them.
Spectators
We are looking forward to welcoming as many spectators as possible to watching the European Farriery Championships! We respectfully ask that all spectators remain behind the public barriers and do not communicate or interfer with the competitors in anyway.
Your safety is important to us. Safety glasses and ear defenders will be provided and you are asked to wear these as appropriate when watching the Championships.