Convention
Alongside the 2014 European Farriery Championships, the Convention boasts an impressive list of Clinicians and a Marketplace showcasing the industry's leading manufacturers and suppliers. If you wish to be a part of this and have not received our Sponsorship and Trade Exhibition Document please do get in touch.
The Convention will be open 8am – 6pm on Saturday 26th July and 8am – 5pm on Sunday 27th July.
Marketplace and Exhibitors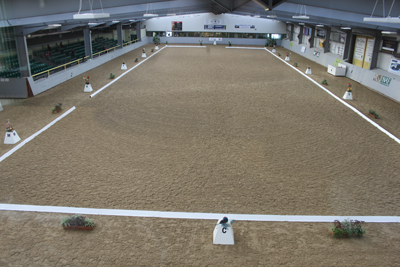 The International Arena at Myerscough
- in this picture ready for Dressage!
The International Arena at Myerscough is a superb venue and will play host to a bustling Marketplace featuring the best manufacturers and suppliers within the farriery industry from around the world.
Running alongside one of the most hotly contested farriery competitions in the world, the Marketplace also includes an informative 'Product Demonstration Area' featuring some great clinicians and sits next to a Restaurant serving an excellent range of refreshments and food. The 2014 European Farriery Championships is the event to be at; educational, thought-provoking, inspiring, sociable and thoroughly enjoyable.
We can also confirm that attendance at this event will earn UK farriers 4 CPD points per day.
International Arena Marketplace
| | | | | |
| --- | --- | --- | --- | --- |
| Stand No | Name of Exhibitor | | Stand No | Name of Exhibitor |
| 1a | Life Data Labs Inc | | 19 | Werkman Horseshoes |
| 1b | Glue -U Adhesives B.V. | | 20a | ACR Aluminium Shoes |
| 2 | Con Cuero | | 20b | Warwickshire College |
| 3 | Total Foot Protection Ltd | | 21 | Stromsholm Ltd |
| 4 | The 3rd Millennium Ltd | | 22 | Myerscough College |
| 5 | VFT Denmark - Farrier Tools | | 23 | Ardall |
| 6 | Vettec Hoofcare | | 24 | NWT |
| 7 | MNC Ltd | | 25 | European Federation of Farrier Associations |
| 8 | Silverback Chaps | | 26 | Farriers Registration Council |
| 9 | Londonderry Forge Supplies | | 27 | Worshipful Company of Farriers |
| 10 | Atlantic Equine Ltd | | 28 | British Farriers and Blacksmiths Association / The Forge Magazine |
| 11a | Vetoquinol | | 29 | The Farriers Foundation |
| 11b | Foreman Tools | | 30 | County Forge Farrier Supplies |
| 12 | Bassoli | | 31 | Richard Ash Horseshoes |
| 13 | J & A Ferrie Farrier Supplies | | 32 | Hereford & Ludlow College |
| 14 | Stromsholm Ltd | | 33 | Save Edge Inc |
| 15 | Stromsholm Ltd | | 34 | The Flying Anvil Foundation |
| 16 | Stromsholm Ltd | | 35 | Pro-Glu |
| 17a | Imprint | | 36 | Sibert |
| 17b | e-hoof.com | | | |
| 18 | Carr & Day & Martin | | | |
Championship Arena
| | | | | |
| --- | --- | --- | --- | --- |
| Stand No | Name of Exhibitor | | Stand No | Name of Exhibitor |
| 37 | Handmade Shoes (UK) Ltd | | 39 | Arthur Cottam & Company (Horseshoes) Ltd |
| 38 | Mustad | | 40 | Concave Horseshoe Company Limited/Know Foot Know Horse |
Product Demonstration Area & Lecture Room
These Demonstrations and Clinics are provided for General Admission ticket holders. There will be a variety of classroom lectures and product demonstrations throughout the day.
Product Demonstration Area

(provisional timetable, but will be exactly the same Saturday and Sunday)
| | | |
| --- | --- | --- |
| 10.10am - 10.40am | | Huw Dyer AWCF, Londonderry Forge Supplies – 'Sharp and Keen – Complete Tool Maintenance' |
| 10.45am - 11.15am | | Robert Diluzio, Atlantic Equine – 'Therapeutic Shoeing Without Nails' |
| 11.20am - 11.50am | | Nigel Fennell AWCF, Arthur Cottam (Horseshoes) & Co Ltd - 'In Depth Demonstration on Cottam's Hoof Care Products' |
| 11.55am - 12.25am | | Frank Dugan, Vettec – 'Combining Different Densities of Support Materials for Optimal Results' |
| 12.30pm - 1.00pm | | Andrew Poynton FWCF, Imprint - 'Latest Efficient Fitting Techniques of Imprint Shoes' |
| 1.15pm - 1.45pm | | Jon Atkinson DipWCF, Handmade Shoes (UK) Ltd - Shoemaking, Tools and Tool Maintenance' |
| 2.00pm - 2.30pm | | Stromsholm - 'Easy Shoe Glue On Demonstration' |
| 2.35pm - 3.35pm | | Mustad |
| 3.40pm - 4.10pm | | Nigel Fennell AWCF, Arthur Cottam (Horseshoes) & Co Ltd - 'In Depth Demonstration on the Blacksmith Gas Forge' |
| 4.15pm - 4.45pm | | Billy Crothers AWCF, Handmade Shoes (UK) Ltd - 'Efficient Horseshoeing' |
Lecture Room
The Lecture Room is in the corridor between the International Arena Marketplace and the Championship Arena.

(provisional timetable, but will be exactly the same Saturday and Sunday)
9.30am - 10.30am

Denis Leveillard – 'A Modern Approach to the Physiological Trimming'

Following completing his apprenticeship in 1971, Denis worked in a variety of places with racehorses and sports horses before establishing his own business in 1974. Denis is past president of EFFA (1999 to 2003) and is Honorary President for the French Farrier Association.

A keen competitive farrier, Denis has also judged shoeing and shoemaking competitions across many countries.
Denis has a passion for continuing professional development and his experience in teaching extends beyond France to many countries including Canada, Czech Republic, Finland, Germany, Hungary and many more. He has a keen interest in biomechanics and the pathology of the equine foot.

10.45am - 11.45am

Andrew Poynton FWCF - 'Hoof Function Related to Everyday Farriery'


Andrew Poynton has practised farriery since 1980 gaining his Worshipful Company of Farriers Fellowship in 1998 and is an executive member and examiner for the Worshipful Company of Farriers.

Andrew specialises in remedial farriery ranging from orthopaedic work, young stock, and subtle lameness to extreme situations such as severe laminitic cases for which his innovative thermoplastic Imprint support shoes were first designed; he handles referral work with veterinary practices throughout the country.

Andrew conducts numerous training days and demonstrations in advanced farriery techniques imparting his knowledge and enthusiasm to farriers and veterinary surgeons in the UK and abroad; also giving lecture tours and speaking engagements internationally.

12pm - 1pm

Jim Ferrie FWCF – 'Fractures of the Foot'

Jim Ferrie lives and works in East Scotland, and is in partnership with his brother Allan. Their clientele is varied and includes a Consultant role at two equine vet practices and the Glasgow Vet College where Jim has been Consultant Farrier since 1974.

Jim gained his Worshipful Company of Farriers Fellowship in 1983, he is a Company Judge and previous Chairman of the Examination Board. Jim has been inducted into the World Champion Blacksmiths' Hall of Fame and the American Farriers Association International Hall of Fame.

As a competitive farrier Jim has completed 18 consecutive years at the World Championships in Calgary and despite the individual title being elusive he won many Championship classes throughout the years. He was a member of the Scottish Farrier Team for 19 years.

Jim teaches further education courses around the world, has produced two farriery DVD's with his brother, Allan, and co-written chapters in Simon Curtis' book entitled Corrective Farriery.

2.30pm - 3.30pm

Simon Curtis BSc (Hons) FWCF HonAssocRCVS – 'Getting a Kick from the Hoof'

Simon Curtis has lectured and demonstrated farriery in more than 20 countries on all 6 continents including the USA, Australia, India, Russia, and Brazil. He has published 3 text books on farriery and has papers published in numerous journals. Simon is attached to the Peter Rossdale veterinary hospital, the largest in Europe, where he is the Consultant Farrier. He has been awarded an Honorary Associateship of the Royal College of Veterinary Surgeons. He is a Fellow of the Worshipful Company of Farriers by examination (FWCF).

Based in Newmarket, Simon has been a farrier since 1972. He is a 4th generation farrier. His family have been farriers and blacksmiths on the Cambridgeshire and Suffolk border for at least 150 years. In 2005 Simon was inducted into the International Farriers Hall of Fame at the Kentucky Derby Museum. Simon continues to practice farriery in Newmarket. Simon recently gained a First Degree, Bachelor of Science (Hons) in Farriery through Myerscough College, University of Central Lancashire.
3.45pm - 4.45pm

Petter Marjomaa - 'Nails - How they are made, their developments and innovations.'


Petter Marjomaa has been employed for almost 3 decades with Mustadfors in Sweden and has vast experience and knowledge in all areas of production. He has lead the team in production, quality and development. Today Petter is responsible for the Mustad innovations in horse nails globally as well as support for sales and marketing. This insightful lecture delves into the history of the nail and the complicated process from idea to finished product.
Tickets
Are now available to purchase for both Saturday and Sunday!
Click on the logo to go through to the Booking Form.
General Admission tickets for Qualified Farriers, Vets and General Public are just £40, increasing to £80 on the door. Make it a date, book early, these tickets are superb value for money. All pre-purchased tickets will be automatically entered into a prize draw - the prize fund is impressive and we have received some great donations!
General Admission tickets for Apprentice Farriers and Students are £25.
The Hands On Clinics for both Qualified and Apprentice Farriers must be booked quickly - spaces are very limited!
Pre-Purchased Ticket Raffle
All tickets purchased before the event will be entered into the pre-purchased ticket raffle.
Winning tickets will be selected at random and winners will be notified at Registration in the Reception Area. They will need to choose an envelope to select their prize. Prizes must be collected from the Exhibitor's stand in person unless otherwise stated
A selection of prizes confirmed to date –
2 x 2 year license for e-hoof.com, 6 Save Edge Photo Finish Rasp, 6 Save Edge Beast Rasps 17", SoundHorse Kit (worth £65), Vettec (2 x £200) prizes, Life Data Labs 1 pail of Farrier´s Formula Double Concentrate, Life Data Labs 6 x bottles of disinfectant "Farrier´s Finish", 2 x Mustad Jackets, 2 x Mustad Bodywarmers, PB Edger Knife Sharpener from Atlantic Equine, A set of Victory Aluminium Racing Plates or a pair of Victory Elite Aluminium Competition Shoes from Atlantic Equine, A pair of SoundHorse Flexx direct-glue plastic shoes from Atlantic Equine, 6 x tins of Silverfeet from Londonderry Forge Supplies, 2 x Long Reach Magnets from Londonderry Forge Supplies, 3 x Bernard Duvernay tools, 2 pairs of farrier boots from Con Cuero, 4 x Forge & Farrier Goody Bags, 2 x Viking Farrier Tool Jackets, a pair of Foreman's Tools Pull Offs plus more!
Thank you to all the contributors and Good Luck!
Clinics
We are extremely fortunate to have been able to recruit some of the best farriery clinicains in the World who are willing to share their knowledge, experience and skills at the Convention.
Two separate clinics have been put together to provide both Qualified Farriers and Apprentice Farriers with an educational, information packed day. The clinics must be pre-booked separate to the Convention and each day (Saturday and Sunday) will have 3 groups of 6 (18 per Group per day).
Book quickly these spaces will be in demand!
Visitors
We are delighted to be able to invite you to this pestigious event and are very much looking forward to welcoming you in July.
Your safety is important to us. Safety glasses and ear defenders will be provided within the Championship Arena and you are asked to wear these as appropriate when watching the Championships.
No dogs are allowed on the premises.
Children must be supervised at all times.
There is to be no eating in the Marketplace or the Championship Arena - pleas respect the arena surafce. The restaurant provides a comfortable, sociable seated area for you to enjoy your food, please make the most of it!
Thank you.