The Farriery Injury Survey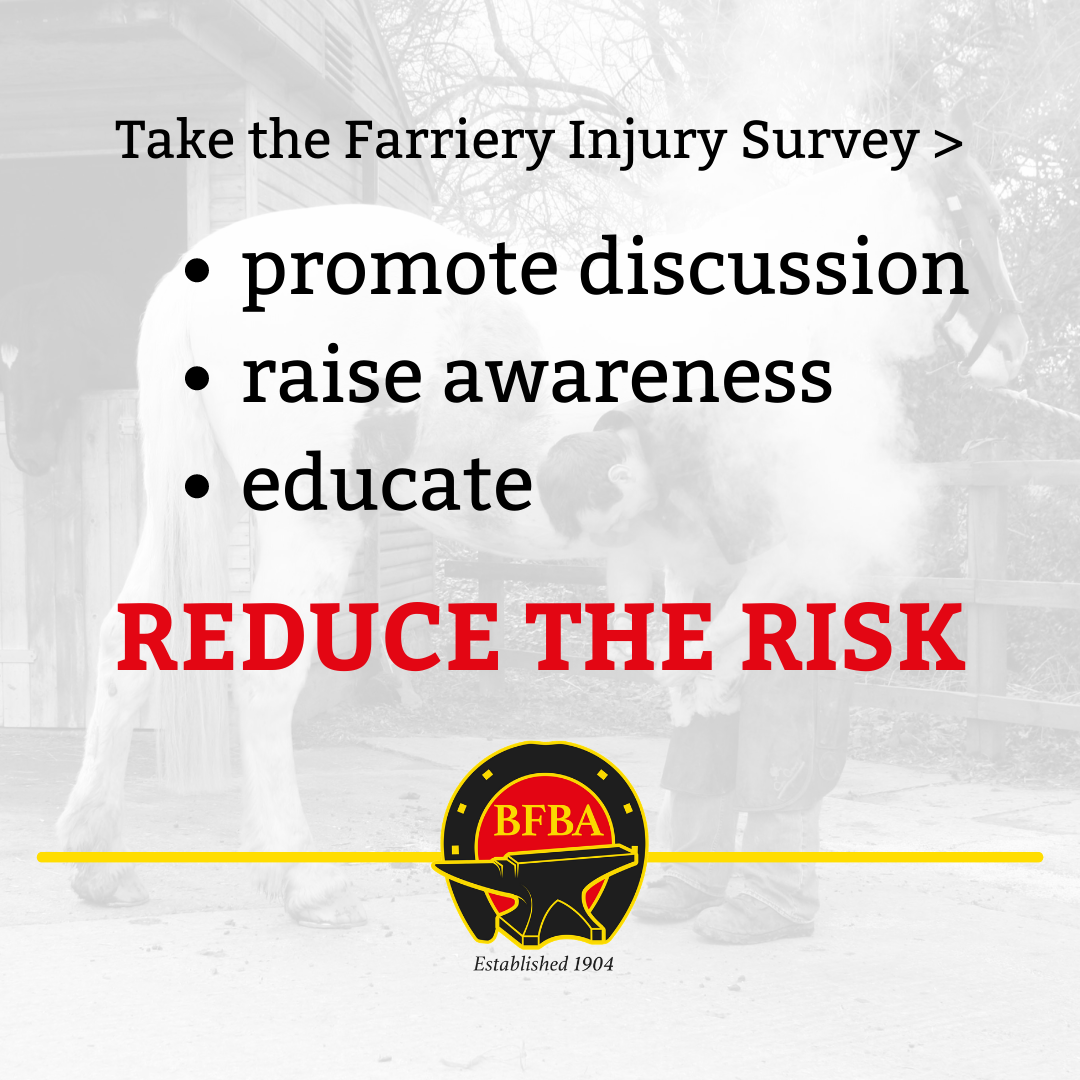 The BFBA have become increasingly concerned at the number of serious injuries incurred by farriers and farrier apprentices whilst at work.
As we all know horses can cause severe injuries to people and farriers are at a high-risk of injury at work. There is currently no data available to say how often injuries occur or how bad they are. Anecdotally, the injury rate would appear to be high and photographs of bloodied farriers – often posted by those who consider they had a lucky escape – appear on social media with warnings to others about the unpredictability of such instances.
Why survey?
This survey is the beginning of a campaign to promote discussion, raise awareness and educate, with the aim of reducing the risk to farriers. The results from the survey will help us to quantify the frequency and types of injuries sustained by farriers while providing hoofcare services. To achieve this we need facts, please take the time to complete this questionnaire. The information gained will enable us to identify the ways in which we can support and help farriers to work more safely.
Questions in this survey are similar to those in the study conducted by Parkin et al (2018). This is for interest and to enable us to draw comparisons between farriers and equine practitioners. Our thanks to Tim Parkin for his permission to do this.
Ref: Parkin, T.D.H, Brown, J., Macdonald, E.B., (2018) Occupational risks of working with horses: A questionnaire survey of equine veterinary surgeons. Equine Veterinary Education 30 (4) 200 – 205.
The results from the survey are completely anonymous, unless you wish to provide your details.
To take part –
Complete the survey online – https://www.surveymonkey.co.uk/r/bfbainj - or complete the survey in the March issue of Forge.
The deadline for responses is 1ST APRIL 2021.
To thank you for the time you have taken to complete the questionnaire your name will be entered into a prize draw!
Stromsholm Farrier Supplies will be giving 10 bump hats to the first 10 questionnaire responses received
All responses received will be entered into an additional prize draw to win –
A pair of Silverback Chaps
Silverback Chaps Bump Cap
The Farriers Foundation hat
Our thanks to these businesses for their support.