COVID-19: National Restrictions for England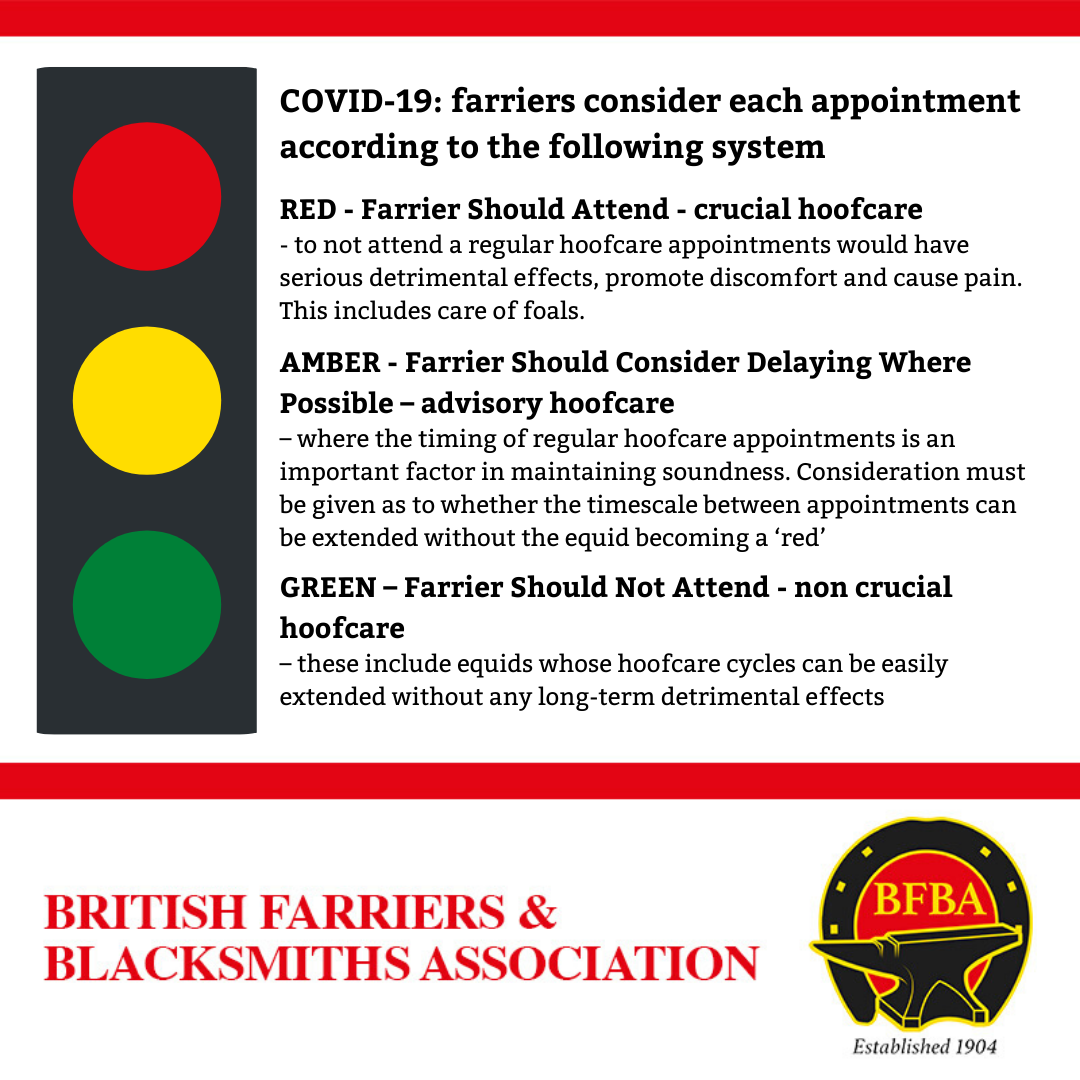 Further to an announcement by the Prime Minister on Saturday 31st October regarding new national restrictions for England, we summarise what we know so far. Until we are advised further it would be sensible to assume that farriers working in England must adhere to the guidelines set out in the first lockdown.
Please carry your Farriers Registration Council card so that you can present it should it be necessary.
Maintain hands, face and space at all times.
Maintain biosecurity measures (PPE and disinfection of tools/vehicles)
Begin to plan ahead and prioritise clients according to the 'RAG' system
What we know of the national restrictions, so far -
You should not leave home, except for:
• education
• work, if this cannot be done from home
• exercise and recreation outdoors
• medical reasons
• food and essentials
• providing care for others

The businesses who must close include:
• Pubs, restaurants and bars (unless they are providing takeaway and/or delivery)
• Gyms and leisure facilities
• Personal care facilities (beauty salons etc)
• Non-essential retail – but they can offer delivery and click-and-collect services

Organisations who can stay open include:
• Hotels and accommodation, only for guests travelling for work
• Childcare, nurseries, schools and colleges
• Construction and manufacturing

The furlough scheme has been extended -
• The new Job Support Scheme has been delayed
• Employees can be furloughed if they were on a payroll filed with HMRC by 23:59 on 30 October 2020
• The Government will continue to pay 80% of the employees' wages up to £2,500
• Employers will pay their national insurance and pension contributions
• Flexible furlough is still allowed

There are no updates yet on the 3rd self-employment income support scheme (SEISS)
• This is currently 40% of your average profits, for the 3 months from 1 November 2020
• There should be a 4th grant due for the 3 months from 1 February 2021
• We are hoping for a review of this support now that there is a new lockdown

Business grants
• Will be available for businesses forced to close
• Grants calculated for each 2 week period closed, and based on your rateable value as follows:
o up to £15,000 the grant is £667 every 2 weeks
o between £15,001 and £50,999 £1,000 every 2 weeks
o above £51,000 should receive a grant of £1,500 every 2 weeks
Read further >> Gov.uk guidance on the National Restrictions from 5th November
Thank you Kinder Pocock accountants for information relating to furlough and business support.