The Lockdown League completes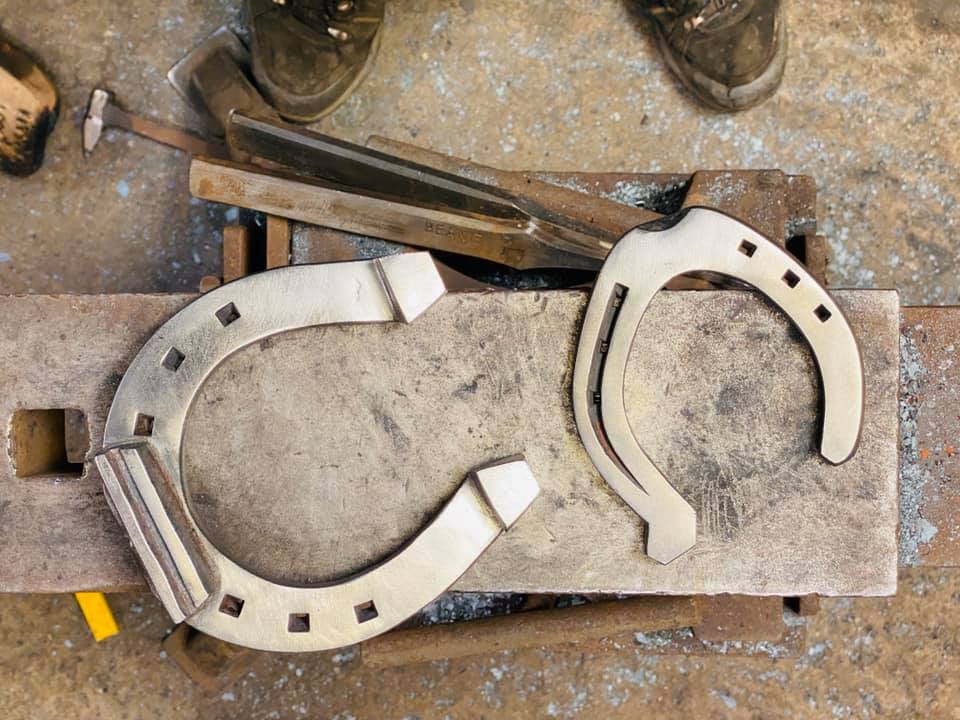 The British Farriers and Blacksmiths Association's (BFBA) competitive 'Lockdown League' has demonstrated exceptional forging skills and attracted an international entry!
The 'distanced' events, formed to provide competition, education and fun, took place over three Saturdays in June, July and August from the farriers' own forge. Two judges at each competition provided images of specimen shoes which the competitors were required to make.
At 9am on the Saturday of each competition, competitors received the details of the two specimen shoes to be forged to the judge's specifications. Once made the shoes were photographed and sent to the Chief Steward, Danny Bennett AWCF, by 11am. The images were anonymised and forward to the judges who returned marks prior to the live prize-giving at 8pm. Judges recorded short videos providing feedback for competitors and Championship points were accrued across the three competitions.
Steven Beane (shoes pictured) demonstrated consistency in all three competitions to secure the championship in the open section, Thomas Anderson successfully secured the intermediate championship and Henri Allison and Sol Tovey took the 3rd & 4th year and 1st & 2nd year apprentice championships respectively.
Ian Gajczak DipWCF, judge of the second competition, commented that it was "a little different than the usual judging protocol using photos rather than shoes" but it was an "honour and privilege to be invited to judge and see the attention to detail in the winning shoes that were nearly an exact replica of my own – all from images".
Huw Dyer, President of the BFBA, was delighted with how well the competition was received. "The Lockdown League has been really good fun in what has been a difficult time for everyone and it has been great to see so many farriers and apprentices take part. We are also extremely fortunate to be supported by generous sponsors who have donated superb prizes and we thank them."
Full results and further details can be viewed online -
Third Competition, including Championship
Thank you to our very generous sponsors - Jim Blurton, Derek Gardner Farrier Products, NAF, Londonderry Forge Supplies, Stromsholm, Gibbins, Silverback Chaps, Leon Bentham, Beanie Tools, B L Farrier Supplies, Crossan Farrier Supplies, Darlow/Jones Clinics, Handmade Shoes (UK) Ltd, forfarriersbyfarriers, Alex Mercer, Central Forge, Steven Beane and The Worshipful Company of Farriers.