Ed Nicholls at Mark Milster's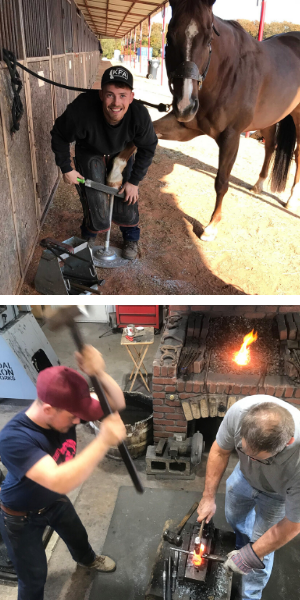 Ed Nicholls continues to explore on the BFBA Edward Martin Cultural Exchange; following a week at Dusty Franklin's helping out at the shoeing school he got the opportunity to watch his first rodeo.
On to Mark Milsters in Oklahoma and Ed has also had the opportunity to spend time with Mckenzie Lawson and Patrick Dutton who live just down the road from Mark - "they are looking after me so well". Mark and Ed have made a hammer together and today they were going to the World Quarter Horse Show to watch the reigning before going to look at a local horseshoeing museum as well shoeing some show horses. Mark has a team practise for the World Horseshoeing Clasic in Texas in the next few days which Ed is really looking forward to.
The Cultural Exchange is organised by the BFBA and coordinated by Huw Dyer AWCF, flights to America are sponsored by Stromsholm Farrier Supplies. It is a once in a lifetime opportunity to travel and expand on farriery knowledge and skills whilst working with some of the most highly respected farriers in amazing locations in the USA. Those wishing to be considered for the educational trip of 3 months in the spring should get in touch with BFBA Head Office by calling 024 76 696595 or email headoffice@bfba.co.uk.