Cultural Exchange: Travelers Announced!
The BFBA Edward Martin Cultural Exchange; successful applicants confirmed!
Sponsored by Stromsholm Farrier Supplies
The BFBA, together with Stromsholm, are delighted to confirm that Lewis Cunningham DipWCF and Jon Zoutewelle DipWCF will be travelling to America this autumn to take part in the Edward Martin Cultural Exchange programme.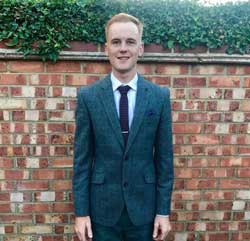 Lewis (top right), trained by Richard Gerken AWCF attended Myerscough College, and is "proud to be selected by the BFBA to go on the Cultural Exchange, it is something I have wanted to do for a long time and after gaining my DipWCF Qualification it seemed a perfect time to take advantage of this amazing opportunity. I look forward to the skills and experience that I will gain throughout this trip".
Jon (bottom right), was trained by Kevin Green AWCF and attended Warwickshire College. He is "honoured to be selected to represent England on the Exchange" and says he is "very grateful to be given this unique opportunity to travel while doing something I love. I'm excited to learn as much as possible".
Jon and Lewis will leave for the USA in September. UK Coordinator, Huw Dyer AWCF is "delighted to have two worthy candidates" and wishes them well during their travels. Organised by the BFBA, flights to America are sponsored by Stromsholm Farrier Supplies as part of their ongoing commitment to farrier education. Stromsholm Managing Director Carl Bettison "wishes both Lewis and Jon a superb 3 months".
The Exchange offers a unique opportunity to both travel and expand on farriery knowledge and skills whilst working with some of the most highly regarded farriers in amazing locations in the USA.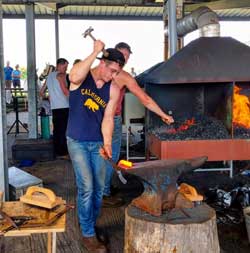 Those wishing to be considered for the educational trip of 3 months in the spring should get in touch with BFBA Head Office by calling 024 76 696595 or email headoffice@bfba.co.uk.