Laminitis and the role of the farrier
Category: Horse Health
Added 24th May 2019
Kate Hore RNutr (Animal). Senior Nutritionist at NAF.
With warmer weather and rainfall, the grass is growing and we're into the highest risk period for laminitis. Over the two months we will be looking at this serious issue for many of your clients, what the latest facts are, and how you can help your clients manage the 'at-risk' equine.
Startling new research, carried out jointly by The Animal Health Trust, Royal Veterinary College and Rossdales Equine Hospital has revealed results showing this painful condition is far more prevalent than thought. Although we recognise this period as 'high risk', it should be considered a year round condition, and in a survey of over one thousand horses and ponies, it was found that one in ten suffered at least one laminitic episode in the previous year – making it as common as colic.
What is particularly worrying is that it was found that nearly half of all owners did not recognise laminitis as laminitis. As a condition severely affecting hooves, farriers are well placed to help the owner recognise the risks and manage their horses and ponies accordingly. So what should you be looking for?
Physical signs
The classic laminitis stance, of rocking back on their heels and evidently divergent hoof rings, was only present in less than a quarter of the animals presenting with laminitis. However over 70% showed more subtle signs, particularly difficulty in turning and a short, stilted gait – often described as 'pottery' – so this is something we can be looking out for. Over half had increased hoof temperature and prevalent digital pulses, though these were routinely not assessed by the owner, so it's advised to check the at-risk animals, and educate owners as to how they can check themselves. Regularly shifting their weight from foot to foot was also common, so another simple sign for owners to watch out for.
Hoof Management
It's maybe no surprise, but this large scale recent survey also showed those individuals being shod or trimmed at greater than eight week intervals are at greater risk of laminitis. Therefore it's an opportunity for farriers to educate owners into the importance of regular visits, and making sure you get that next visit booked in before you leave the yard.
Diet Monitoring
Unsurprisingly the survey found our UK native breeds and cross-breeds to be most at risk, though it can be seen in any animal. Previous episodes of laminitis dramatically increased the risk, as did a sudden increase in weight, so owners should be encouraged to regularly Body Condition Score their horses, and not just rely on eye. To spot any changes over time a weigh tape can be really useful. Although rarely exactly accurate, if used by the same person at the same time weekly they give a good guide to any change.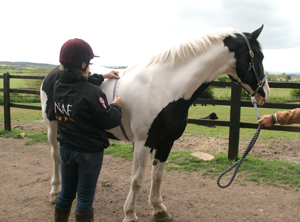 If changes towards weight gain are seen, then appropriate measures should be taken with the diet. Advise that clients are feeding a high fibre, low cereal diet. In fact for the majority of leisure horses and ponies a fibre and forage diet alone is more than adequate for energy and protein. However it is worth being aware that natural soil deficiencies in the UK will be passed to the grazing, so it's worth feeding a broad spectrum vitamin and mineral to ensure they're getting all the require for hoof health and general vitality.
Dependent on their natural metabolism and work level, that broad-spectrum product may be a concentrated balancer including probiotics and prebiotics to help them maintain condition; or it may be one designed for those that live on fresh air – supplementing with vitamins and minerals, supporting healthy metabolism without encouraging weight gain.
In the next update we will look more closely targeted nutrition to support the at-risk equine. In the meantime if you would like further information on nutrition for laminitics, please do contact NAF and our team will be happy to talk to you. (Freephone 0800 373106).
Ref : Pollard, D. , Wylie, C. E., Newton, J. R. and Verheyen, K. L. (2018), Incidence and clinical signs of owner‐reported equine laminitis in a cohort of horses and ponies in Great Britain. Equine Vet J. doi:10.1111/evj.1305