7th Scottish Farrier / Veterinary Conference
Category: Articles by Forge & Farrier
Added 30th November 2015. Updated 24th March 2016
Held at the University of Glasgow Weipers Centre in association with J & A Ferrie Farrier Suppliers.
17th & 18th November 2015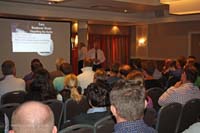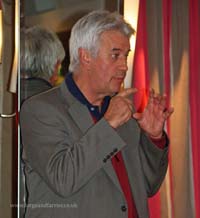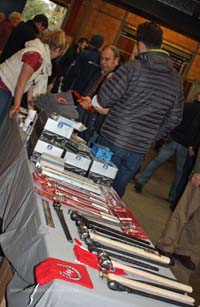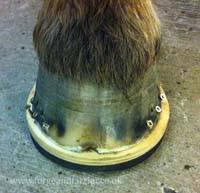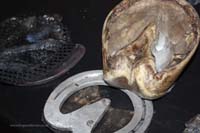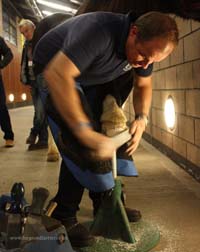 Welcomed by Dr John Marshall BVMS PHD DACVS MRCVS, lecturer in Equine Surgery at the Weipers Centre Equine Hospital, the 7th Scottish Farrier and Veterinary Conference got underway at The Pond House Hotel. 120 farriers, vets, farriery apprentices and veterinary students committed to an inclusive program of both lectures and practical sessions.
The evening lectures began with David Nicholls Master Farrier AWCF CEF, CLS, providing the first lecture examining limb support; specifically where support ends and leverage begins. This lecture aimed to provide "thoughts to be played with" and to inspire farriers and vets to see something differently. David describes his work as being one with a traditional background but balanced with the use of modern technique's. He considers the availability of manufactured products to be a luxury and still very much prefers to be innovative and utilise his own forge. Growth and development of the foot, its structure, blood circulation and loading mechanisms were discussed in relation to movement, specifically breakover, foot flight and landing. David's experience, tried and tested, resulted in the development of the EDSS clog and multidirectional break over shoes. An explanation of the application of these was provided.
A brief interim presentation provided by Captain David Goodall, RN, Worshipful Company of Farriers Registrar offered further information on Higher Examinations; the Associate (AWCF) and Fellowship (FWCF). All information for these exams, including forthcoming dates can be found on the Company website (http://www.wcf.org.uk/) and follow the 'WCF Examinations' link toward the top of the page.
Prof. Tim Greet BVMS, MVM, CertEO, DESTS, DipECVS, FRCVS managing partner at Rossdales Veterinary Hospital at Newmarket presented on angular and flexural limb deformities in young horses. Although at times hard to comprehend, the range of case studies were incredible - angular and flexural, both congenital and acquired, deformities were explored. Although in an area with the local equine population being largely thoroughbreds, all breeds, shapes and sizes of horse were included. Complex and largely "poorly understood" the site of such problems were identified in relation to the age at onset of the deformity. Clinical assessment includes both stationary and walking assessments plus radiology. A cautionary remark to not confuse joint laxity with angular deformity was advised. A good relationship with a farrier was expressed as being "vitally important", with Tim calling in a farrier at the earliest possible stage of assessment and treatment; ideas are shared and discussed prior to and throughout.
The evening concluded with a drink in the bar, an opportunity to ask further questions and to catch up with friends and colleagues before a full day of lectures to start the following morning.
Warmly welcomed to the Weipers Centre Equine Hospital by Head of Division of Equine Clinical Sciences Dr Tim Parkin BSc,BVSc, PhD, DipECVPH, FHEA, MRCVS the morning lectures began with Prof. Tim Greet examining surgery of the equine foot. Following a review of basic foot anatomy and its 'vulnerability' to injury methods to investigate lameness from hoof testers, regional or synovial analgesia and radiography to MRI and nerve blocking were discussed. A wealth of case studies of equine foot surgery ranging from subsolar infection, canker, quitter and laminitis to keratoma, hoof wall injuries, fractures from the distal phalanx and navicular bone fractures were provided and examined in terms of both treatment and outcome.
Jason Ro Tramel CJF, ASF provided a measured presentation on the relatively recent use of stem cells as a treatment for chronic "walking dead" lameness. The application of such treatment "from a farrier's perspective" and with the farrier as an "equine advocate" was discussed in terms of a safety and efficacy study. Meant to "stimulate thought" the lecture summarised the study that was conducted to assess the use of stem cells as medical support for hoof care maintenance and performance. Involving 20 horses the results were felt to be significantly effective to warrant further research. Specific case studies were detailed of horses improving with stem cell treatment where other options had failed; it is a young science but the future of such work could provide improved outcomes both as a standalone and supportive treatment.
Dr John Marshall's lecture "Using the 'Rule of Sides' in Lameness Exams" assessed whether "rules" can be applied in equine lameness. Studies including one of 28 horses with forelimb lameness and another of 37 horses with hindlimb lameness considered compensatory or 'false' lameness in the other limb(s) which may be contralateral or ipsilateral. It was proposed almost all horses with forelimb lameness may have a hindlimb lameness and the relationship appears to be strong. A hindlimb lameness generally results in some compensatory movement; a mild to moderate hindlimb lameness can cause an ipsilateral forelimb lameness. It is preferred to prioritise the lameness and avoid unnecessary treatment.
Brigadier David Greenwood, Registrar F.R.C, gave a thorough update of the regulation of farriery within the UK. Since his instalment as Registrar 18 months ago he spends a large amount of his office time dealing with the "sludge tank (5%)" of the farriery profession and referred to those attending the conference as the "glitterati". His position, as he describes it, is one of regulatory and "holding to account" and dealing with his 3 main stakeholders; "horses, horse owners and the general public". A change in government office, the modernisation of the farriery Act, Business Innovation and Skills, the Enterprise Bill and the prosecution of illegal farriery are no small tasks and just a sample of those dealt with to date.
A case discussion chaired by Dr John Marshall and including Tim Greet, Raphael Labens, David Nicholls, Jason Ro Tramel examined various cases brought to the Hospital and assessment and treatment options were discussed with the outcomes revealed providing an insight into both the thought processes and range of options involved amongst the clinicians.
A lunch break for a very welcome warm soup and an array of sandwiches plus the opportunity to peruse product displays from J & A Ferrie and Mustad came before the afternoon session of practical demonstrations. Farriers and vets were split into groups and rotated around one of four clinicians. For farriers -
Jonathan Nunn AWCF demonstrated the use of a heartbar with leather pads using Magic Cushion and Solution Feet Matrix mixed as hoof pack. This was proposed as an ideal option for flat soles with the intention of increasing solar depth.
Jason Ro Tramel CJF ASF delivered a thought provoking application of EVA Clogs proposed as a treatment for, and to provide relief from, chronic lameness from conditions such as laminitis and soft tissue damage.
Mark Trussler AWCF conducted a video analysis using 'Coach's Eye' in the assessment of a horse at walk and trot to analyse overall movement, foot flight and landing. His lecture included shoeing a foot using quarter clip fronts and hinds of a ridden pony.
David Nicholls followed on from the previous evening's lecture with a presentation on hoof mapping, for which the attendees were provided with the protocol written in great detail. The application of this technique is designed to highlight the boundaries and parameters in which to trim every foot, perceived as an ideal.
The vets amongst the group were treated to lectures from –
Patrick Pollock BVMS, CertES(Soft Tissue), FHEA, DipECVS, MRCVS on Management of Foot Wounds,
John Marshall BVMS PHD DACVS MRCVS discussing Injecting the Navicular Bursa,
Raphael Labens MVM, PhD, CertES(orth), DACVS, DECVS, MRCVS gave an objective assessment of the ridden horse and,
Sylvia Maliye BSc, BVMS, MRCVS examined blocking the suspensory region.
Some amongst the group expressed an interest in seeing both 'halves' and, whilst not quite physically possible, demonstrated the enthusiasm and interest in the lectures provided.
With the rain still falling heavily and the temperatures dropping the attendees dispersed for journeys home. New friendships and contacts had been forged. The teams at J & A Ferrie Farrier Supplies, the Weipers Centre Equine Hospital and the individual clinicians had done a first class job at delivering and sharing information whilst being theoretically and practically educational and inciting thought. This conference is an enlightening example of just what can be achieved when farriers and vets can come together in a mutual relationship highly beneficial to the welfare of the horse. This is the 7th occurrence of this conference, and as numbers have increased year on year, I would be looking to place the date firmly in the diary for next year!
For the full photo gallery, please follow this link.