Ed O'Shaughnessy wins Kings Plate Comp!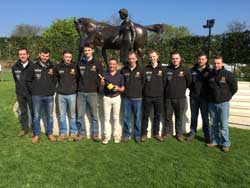 The completion of the flat horseracing season has once more crowned Edward O'Shaughnessy AWCF as winner of the Stromsholm Kings Plate Competition. Ed has won a trip to the 2018 International Hoofcare Summit in Cincinnati, Ohio.
Farriers to John Gosden at Clarehaven Stables, the O'Shaughnessy team has played a vital role in a season which has witnessed Persuasive win the QEII and Enable notch up an incredible 5 Group 1 wins culminating in the Prix de l'Arc de Triomphe in October.
O'Shaughnessy Farriery has provided farrier services to John Gosden since 2006.
Heading up the farriery team at Clarehaven Stables, Ed acknowledges that we are "very fortunate to be working in an amazing racing yard, surrounded by lovely knowledgeable people. We are so proud to be responsible for the foot care of some of the best bred and talented horses in the world. I would like to thank my fantastic team of highly skilled farriers who work for O'Shaughnessy Farriery.
The Kerckhaert Extra Sound Plates offer adequate support to the feet, with coarse nail holes, which in turn, keeps our feet strong and healthy."
Ed continued "I would like to congratulate Stromsholm for always continuing to improve their racing products which help to maintain soundness and make farriery easier."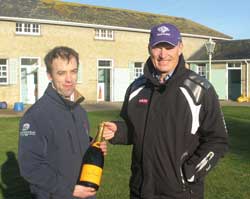 The Kings Plate Competition runs from the first day of the turf flat season to the last and farriers can accrue points for winners that were shod with Kings Plates in England, Scotland and Wales. Classic, Listed and Group races carry more points.
In addition to the top prize, those gaining 50 winners can claim a bottle of champagne with prizes for yards of under 50 and over 50 horses.
Stromsholm Managing Director, Carl Bettison, is delighted for Ed and the O'Shaughnessy Team and wishes them continued success. "It is incredibly exciting to witness these horses performing so well. The Kings Plate is an excellent shoe, and combined with great farriery, can only help to achieve this. Our congratulations to Ed and his team".
Website: www.stromsholm.co.uk