Jim Blurton wins WCF Best Shod at Royal Welsh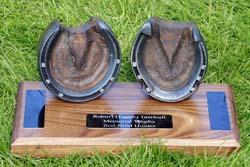 The Worshipful Company of Farriers Best Shod Horse has been won by the late Robin 'Trigger' Turnbull DipWCF on many occasions. Following his recent sad passing, close friend and fellow farrier Matt Rees DipWCF (Wenallt Forge Farriers) hand made a particularly special trophy to be awarded to the winning farrier of the Best Shod Hunter at the Royal Welsh Show in Rob's memory. This extremely special trophy included two of Rob's own handmade hunter shoes and were mounted on wood by Matt.
Judged by Nigel Brown AWCF during the morning of Monday July 24th the award was won by Zara Owen riding her own Red Letter Day. Unknown to Nigel at the time of judging, Zara is Rob's girlfriend and the farriers responsible were Jim Blurton AWCF and the Forden Farriers team.
Rob had been trained by, and had continued to work for Jim, throughout his farriery career. The shoes were made by Dan Rabin DipWCF and Jess Uphill DipWCF at the forge in Forden following Rob's memorial service. Jim Blurton was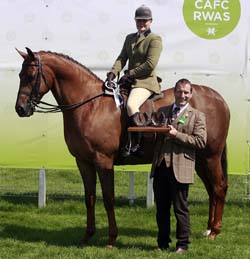 responsible for the nailing and fit of the shoes and 4th year apprentice Andy Hollins the trim and finish.
Judge, Nigel Brown, commented on the high standard of shoeing demonstrated by a number of the Ridden Hunters. However, the winning job "had shoes forged from a good tool and fullered section to emulate and match the foot conformation with clean well fitted heels. It was an honour and a pleasure to judge and I am delighted that the winner was revealed to be Zara, Jim and the team at Forden Farriers. A particularly special award."