Research Study Invitation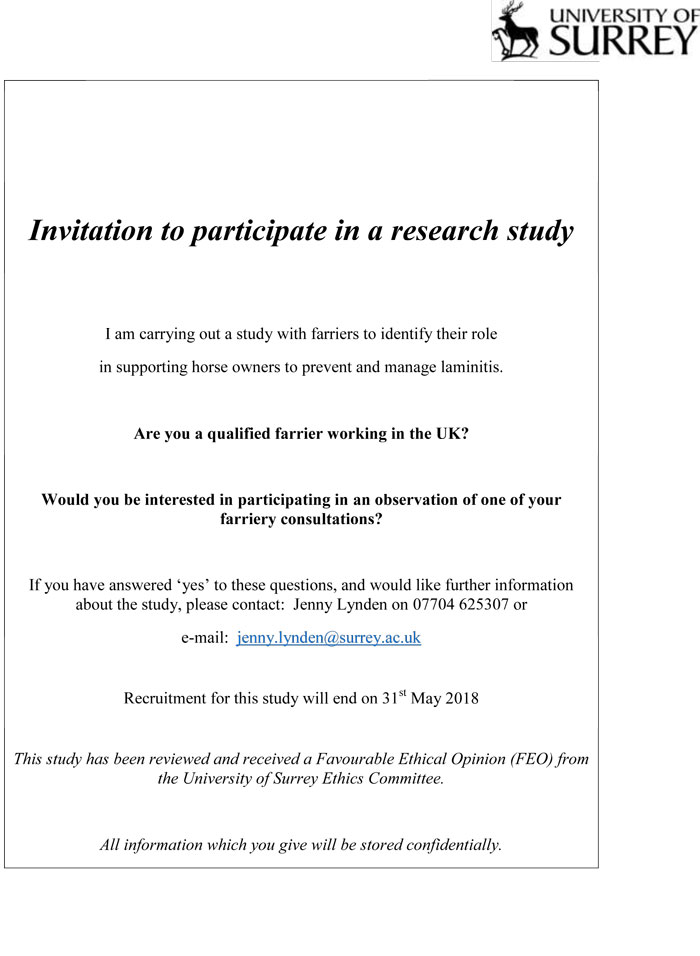 Farrier participant information sheet for observation study
A study exploring the role of farriers in supporting horse owners to prevent and manage laminitis
Introduction
My name is Jenny Lynden and I would like to invite you to take part in my PhD research project. Before you decide you need to understand why the research is being done and what it will involve for you. Please take the time to read the following information carefully and ask questions about anything you do not understand.
What is the purpose of the study?
The study is intended to develop an understanding of the role that farriers play in supporting owners to prevent and manage laminitis.
The study is focussing, for example, on whether it is the farrier's role to discuss horse management issues such as nutrition and exercise, and if so, how they do this.
While there is some research taking place at the moment with vets and owners, there is very little which represents the experiences and perspectives of farriers, and this is why the project is being undertaken.
Why have I been invited to take part in the study?
You have been invited to take part in the study as you are a qualified and registered farrier with experience in providing farriery care for horses with laminitis.
Do I have to take part?
While it is hoped that you will want to participate in the study, you do not have to participate, and can withdraw from the study at any time. You will have the right to withdraw your data until the research output is published.
What will my involvement require?
If you agree to take part, we will then ask you to sign a consent form. If you do decide to take part you will be given this information sheet to keep and a copy of your signed consent form. The study will involve:
An observation, including video-recording, of one of your consultations with a horse owner whose horse has had or is experiencing laminitis. A video recording would be undertaken as it is important for me to understand how farriers and clients communicate, including the types of facial expression, hand gestures, etc. which aid that communication. I will be looking for and reporting on patterns across many farrier-client consultations.
You would decide which consultation you think would be suitable for the observation study, and asked to help approach and recruit a suitable client to participate in the observation.
The video-recording equipment would be camouflaged so that it is not perceptible to the horse, and would not bleep or flicker. No video-recording would take place until you and the horse owner were completely satisfied as to the safety of the equipment.
Once the recording equipment was set up and the horse brought in, the researcher would leave the area until the consultation is finished.
You will also be asked you to complete a confidential questionnaire about your background. This is so that an assessment can be made about the extent to which the study represents the views and experiences of farriers with different backgrounds.
What will happen to data that I provide? Will my taking part in the study be kept confidential?
The data collected would be reviewed and summarised on the basis of patterns of communication across many different consultations. The review would focus on both verbal and non-verbal communication. No video images of any participant, horse or location would be used in any report or publication. The video data from all observations would be coded by different features of communication (eg. facial expression, hand gestures, etc) and it is this coding which would be reported. The verbal communication would be typed up in a transcript, but anonymised so the participants could not be identified or recognised. Some of typed data, with your permission, would be copied into reports to illustrate important features of farrier-client communication.
The data from the video and audio-recording would be stored on an encrypted and pin protected external hard drive locked in a filing cabinet in a locked office. This is so that no one other than the researcher and research supervisors would have access to the audio-recording. This data will be held for at least 10 years. After that time, the data would be destroyed so that it would not be retrievable.
The transcript which would not identify you or anyone else would, with your permission, be stored on a UK data archive in line with good practice, so that monitoring and auditing can be carried out by independent authorised individuals. To make the most of your participation, with your consent, the anonymised data may be used for future research. I cannot tell you at this moment in time what this research will involve but I can assure you that all appropriate legal, ethical and other approvals will be in place. Research data are stored securely for at least 10 years.
The anonymised data, including quotations, from the transcript would be summarised and reported by the researcher in papers and at conferences, with your permission.
Any project data, which is related to the administration of the project (e.g. consent forms) are stored for at least 6 years in line with the University of Surrey policies. Personal data will be handled in accordance with the UK Data Protection Act (1998) so that unauthorised individuals will not have access to them. All personal data (eg. email, telephone or postal addresses will be destroyed after your participation in the research study).
What are the possible disadvantages or risks of taking part?
It is not anticipated that there will be any significant disadvantages or risks in taking part in the study. As noted above, no video-recording would take place until you, the horse owner and, if applicable, the yard owner are satisfied as to the safety of the equipment.
What are the possible benefits of taking part?
The purpose of the study is to highlight the role that farriers have in supporting owners in preventing and manging laminitis, thereby addressing a gap in the current research regarding the roles of different professional groups.
The research will also be published to a wider professional audience, including other farriers, vets and other relevant practitioners.
What happens when all the data is collected?
Once the data has been collected, the researcher will analyse it to look for patterns or common themes. These will be published as a PhD thesis and in journals. It is intended the PhD will be submitted in 2018. The research findings will be made available to you and there will be opportunities for further discussion and debate about the study in the researcher's blog.
What if there is a problem?
Any complaint or concern about any aspect of the way you have been dealt with during the course of the study will be addressed. Please contact the project researcher, Jenny Lynden (jenny.lynden@surrey.ac.uk, tel: 07704 625307) in the first instance. If you believe your concern has not been addressed, then you can contact the project supervisor, Professor Jane Ogden (j.ogden@surrey.ac.uk or 01483 686929). If you still have concerns, you can contact Professor Derek Moore (d.g.moore@surrey.ac.uk or 01483 686933).
The University of Surrey holds insurance policies which apply to this study. If you experience harm as a result of taking part in this study, you will be eligible to claim compensation. This does not affect your legal rights to seek compensation.
If you are harmed due to someone's negligence, then you may have grounds for legal action. Regardless of this, if you wish to complain, or have any concerns about any aspect of the way you have been treated during the course of this study then you should follow the instructions
given above.
Full contact details of researcher and supervisory team:
Project researcher: Jenny Lynden
Room 23AC04, School of Psychology,
University of Surrey,
Guildford, GU27XH
Tel: 07704 625307
email: jennylynden@surrey.ac.uk
Project Supervisor: Professor Jane Ogden
Room 27AD02, School of Psychology,
University of Surrey,
Guildford, GU2 7XH
Tel: 01483 686929
e-mail: J.Ogden@surrey.ac.uk

Head of School for Psychology: Professor Derek Moore
Room 22AD02, School of Psychology,
University of Surrey, Guildford, GU2 7XH
Tel: 01483 686933
Email: d.g.moore@surrey.ac.uk


Who is organising and funding the research?
The research is being conducted by a PhD student who is self-funding the project.
Who has reviewed the project?
This research has been looked at by an independent group of people, called an Ethics Committee, to protect your interests. This study has been
reviewed and received a Favourable Ethical Opinion (FEO) from the University of
Surrey Ethics Committee.
Thank you for taking the time to read this Information Sheet.