Farrier wins Volunteer of the Year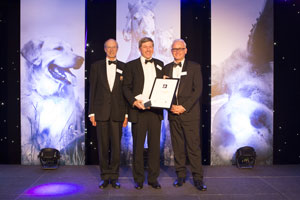 Dean Bland, a farrier from Well Equine in Silkstone Common in Barnsley, Yorkshire, has won the Volunteer of the Year Welfare Award at the prestigious Ceva Animal Welfare Awards 2017.
Dean, was presented with the award at a glittering ceremony in Birmingham in the run up to the British Small Animal Veterinary Association (BSAVA) Congress in recognition of his work helping organisations and individuals to support the lives of working equines and their owners around the world through training, development and research.
Dean tirelessly volunteers and supports equine welfare organisations and he has volunteered at all nine of the British Horse Society's castration clinics to educate horse owners who have had no previous experience with a professional farrier on the importance of hoof care. Dean was also chosen as one of the farriers to support the Olympians at the Rio Olympics 2016.
On winning his award, Dean commented: "I'm absolutely delighted to win the Volunteer of the Year Welfare Award at the Ceva Animal Welfare Awards, which reflects the opportunities that I've been given to support equine welfare around the world. With that in mind I'd like to thank all the organisations and charities that have supported me and provided me with these opportunities."
For further information on the Ceva Animal Welfare Awards visit www.cevawelfareawards.com.