BFBA Farrier Focus
Date: 23rd September 2017 - 24th September 2017

You are warmly invited to attend this year's BFBA Farrier Focus to be held at The Forge, Stoneleigh.
The EC have been working extremely hard to provide a weekend packed with leactures, clinics and demonstrations and we are delighted that trade stand space has sold out. Pre-registration is not necessary, just turn up on the day. We look forward to seeing you there.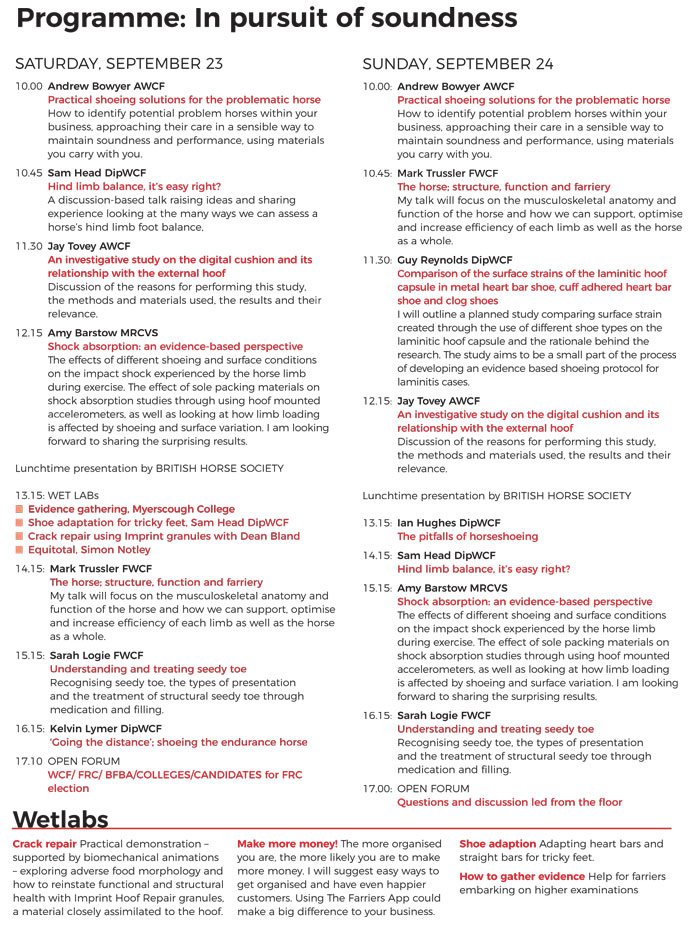 Confirmed exhibitors and sponsors -
Arthur Cottams & Co (Horseshoes) Ltd (sponsors of the Lecture Theatre)
Atlantic Equine Ltd
Bassoli (sponsors of rasps)
Calor Gas (sponsors of Gas)
Eastlake & Beachell
Equine Foot Clinic Ltd
Gibbins
Handmade Shoes (UK) Ltd
Imprint Equine Foot Care
IV Horse
J & A Ferrie Farriers and Farrier Supplies
Life Data Labs, Inc
Londonderry Forge Supplies Ltd
MNC Ltd
Mustad (sponsors of Nails)
Myerscough College
NWT Horseshoes (sponsors of Prize Bags)
Optima Hoofware Ltd
Richard Ash Horseshoes
Silverback Chaps
Sims Financial Services
Special Steel Sections Ltd (sponsors of steel)
The Farriers App
The Shoeing Lab
3rd Millennium
Total Foot Protection Ltd
Stromsholm
VFT Denmark
Worshipful Company of Farriers
Thank you to all the companies who will be attending and thank you to all of those who have pledged their support through sponsorship of this event. Without your support it would not be taking place and would not happen without you.
Should you have any queries regarding this event, or any of BFBA matter, please contact National Secretary Amanda Hill at The Forge on 024 76 696 595 or email nafbaehq@nafbae.org.