Life Data Labs: Laminitis Case Study
Category: Horse Health
Added 18th October 2016

Laminitis with sloughing of all four hooves in a 13-year-old
Quarter Horse gelding resulting from a bladder atony episode of unknown origin.
E. Jones Williams, DVM
Stable & Stock Veterinary Services,
PLLC
Watertown, TN USA
Summary
A 13-year-old Quarter Horse gelding was treated for severe laminitis with Animalintex poultices,
Farrier's Formula®
, Pegasus Laser Therapy, and Soft-Ride Boots, which allowed for the growth of new hoof walls after the old hoof walls had rotated away and sloughed off. These therapies to increase circulation and provide nutrition to the hooves were successful in returning the gelding soundly to his previous level of work after 18 months.
Introduction
Laminitis in its most simple definition is inflammation of the sensitive laminae of the hoof wall. The cause however can vary from trauma, to grain overload, to toxins, and beyond. This case study is meant to show that even the most severe of cases have a chance of survival and return to work if we attempt to help the body heal itself rather than use our traditional treatment regimes. However, the key to success relies on the presence of a willing and diligent owner, veterinarian, farrier, and above all a patient that is willing to be treated.
Nutrition
In conjunction with antibiotic treatments he received daily Probios. Free choice grass hay was available at all times. Daily ration consisted of ½ cup Barn Bag feed. Hoof supplement consisted of ½ cup
Farrier's Formula® Double Concentrate
. Fresh water was also available at all times.
Results
Hooves remained intact and grew at an increased rate. The hoof wall that was present at the onset of the laminitic episode rotated away from P3 on each hoof. (see Left Fore Medial 18.7.2012). The dead soles were removed at the beginning of the 3rd month of treatment. (see Right Hind Sole 02.07.2012). The outer hoof walls detached at 4.5 months of treatment. (see Right Hind Wall Resection 20.8.2012). New hoof wall grew in at the correct angle and did not associate with the old hoof wall. Hooves continued to grow and at 11 months all hooves had grown to touch the ground. (see Right Hind Lateral 30.3.2013). He remained tender on the front hooves but was able to have his back boots removed at that time. At 18 months aluminum Natural Balance shoes were applied to his front hooves and he was able to trot off sound.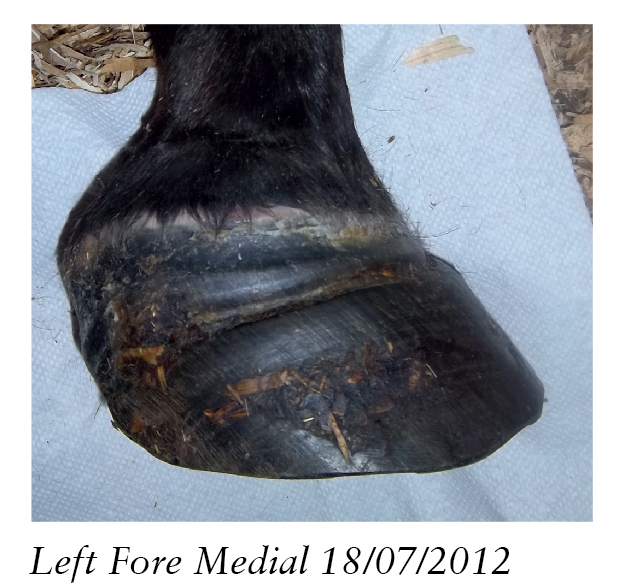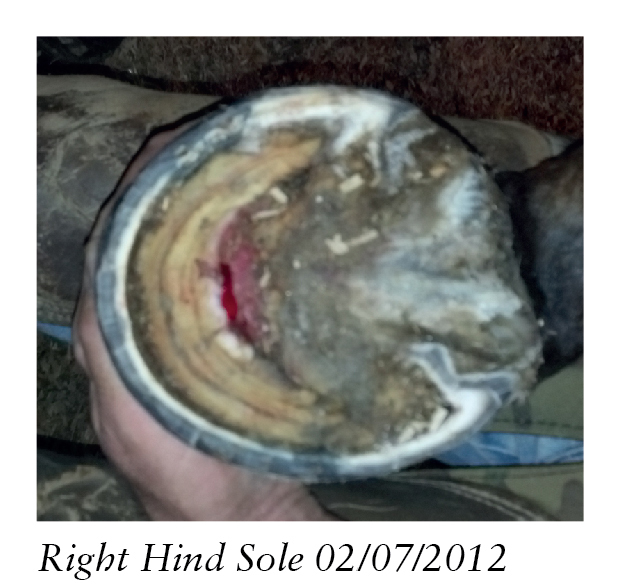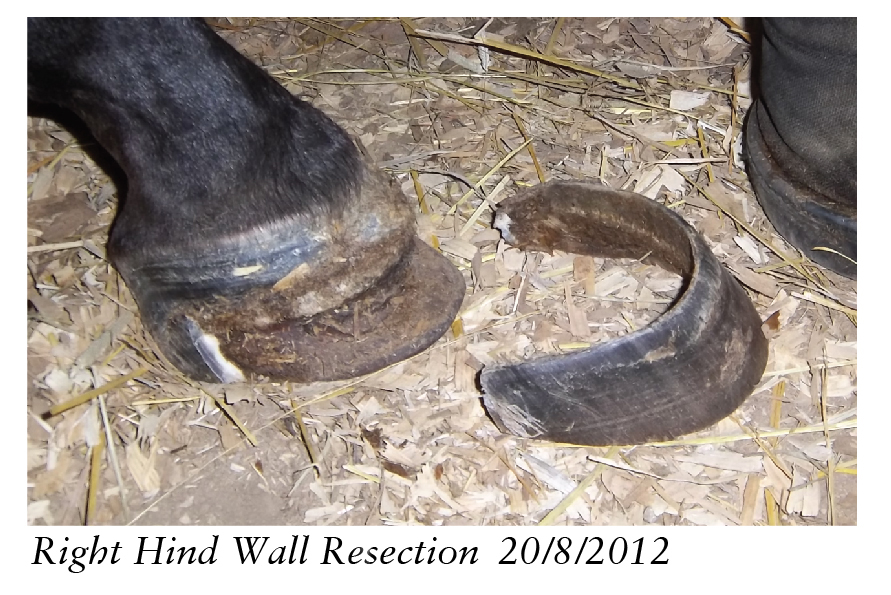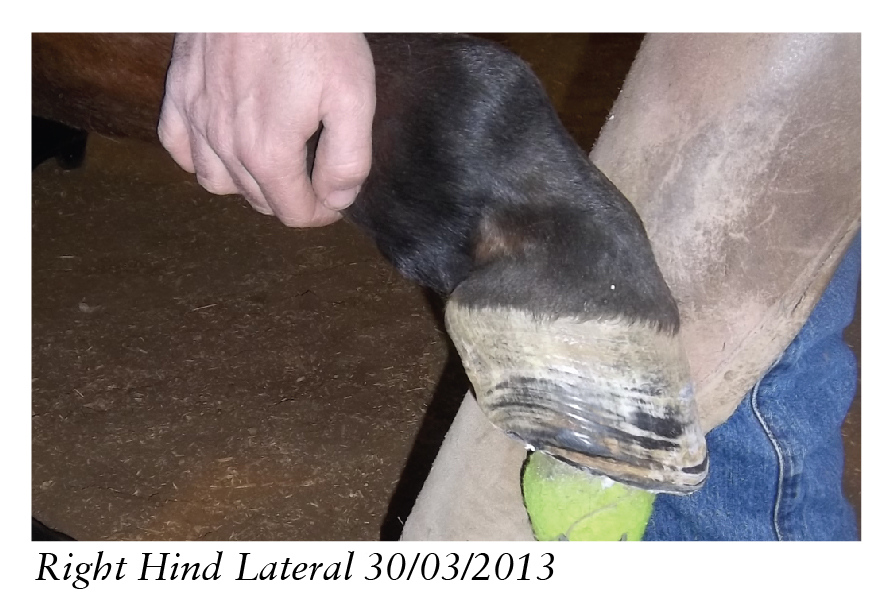 Discussion
The combination of Animalintex poultices,
Farrier's Formula®
, Pegasus Laser therapy, and Soft-Ride Boots led to a full recovery of a horse that should not have survived. Animalintex poultices allowed for debris and waste products to be removed from the body without the need to recirculate through the body. Farrier's Formula provided the nutrition needed for increased hoof growth. Pegasus laser therapy allowed for increased circulation to get the nutrients where they were needed most, as well as provide pain relief from standing in the "founder stance". Soft-Ride Boots provided support and protection to the bandaged hooves as well as increasing circulation during the times he did choose to stand.